5G Network: How Will It Impact OTT And Video Streaming Industry
Posted By : Priyansha Singh | 21-Jul-2021
5G Network: How Will It Impact OTT And Video Streaming Industry
Over the last few years, Over-the-top (OTT) platforms have significantly transformed the way digital media is consumed. With OTT video delivery services now becoming the focal point of households across the globe, viewer's expectations for streaming platforms such as Amazon Prime, Hulu, and Netflix continue to grow in cahoots with this expansion.

As demands for seamless live video streaming and high-quality content rise, the neoteric 5G technology presents the lucrative opportunity to drive the OTT viewer experience to a whole new level. As video is accountable for a majority of mobile internet bandwidth consumed today, the upgraded connectivity will open new doors for digital streaming providers.

With the 5G network's low-latency and ultrafast download speeds which is up to ten times as fast as the existing network connectivity, video-on-demand users will be able to say a final goodbye to stop-start streaming and buffering videos. In this article, let's dive into how 5G will revolutionize the OTT industry in profound ways.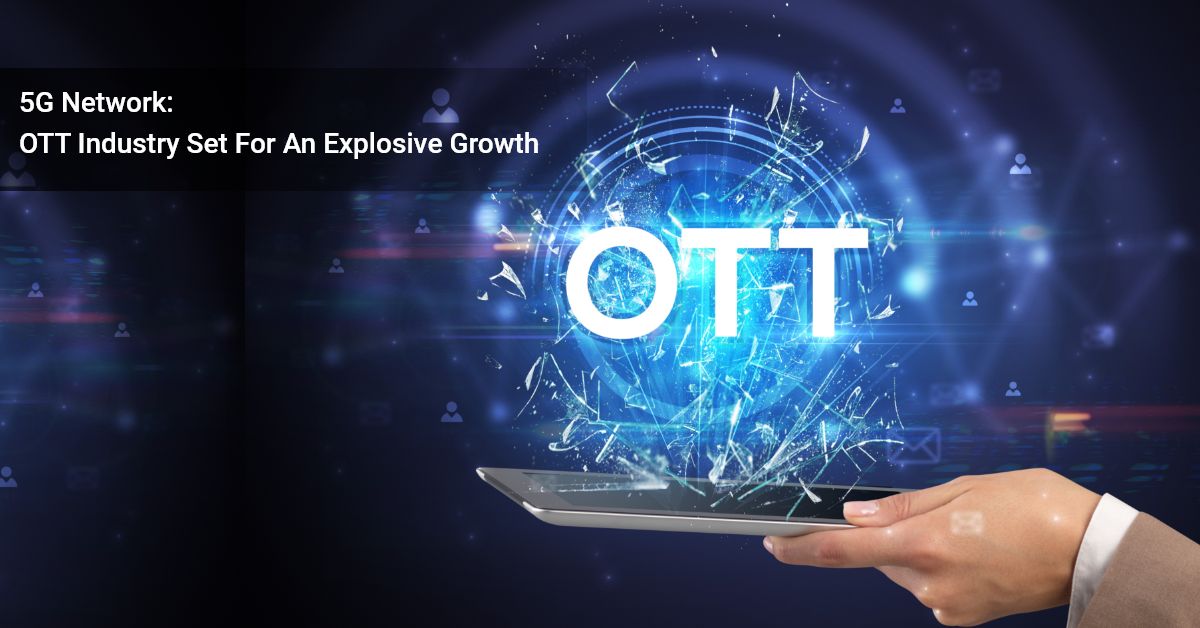 How Does 5G Matter For OTT And Video Streaming?

Technological advancement is largely dynamic. As the successor of the current 4G, 5G is touted as one of the biggest leaps of the wireless connectivity evolution. It wouldn't be wrong to state that the 5G network enables a new superlative wireless technology that connects almost everything from devices to machines and objects to people.

Some prominent attributes that make the 5G network such as a massive improvement are:

Fast internet supported by the delivery of super high multi-Gbps data speed which can sustain even during peak times

Greater network reliability

Ultra-low latency aspect that makes the time-lapse between action & response appears imperceptible

Colossal network capacity that can handle multiple devices and users concurrently without leading to any performance degradation

Excellent user experience

Increased user support and multi-enterprise app availability at all times

The 5G network is predicted to transfigure and attract new opportunities for OTT app development services. The OTT industry is already undergoing a snowballing surge globally and more prominently in populous and technology-savvy countries. The advent of 5G will provide more crucial opportunities to it, especially related to the advertisements. General viewing and video streaming are also set to experience a transformation that will witness more digital media service providers to deliver the content of varied genres.

Also Read: Top Industries That Can Benefit From OTT App Development
Benefits of 5G For OTT Streaming

Along with offering multiple-device support, 5G is anticipated to alter user's interaction with digital content and all in a very good way. This positive aspect of 5G is specifically significant as it will make video streaming and viewing much more accessible and easier by:

Improving connectivity with a higher bandwidth

Making content transfer continuous and smooth with extremely faster data transfer speed

Removing latency

How Will 5G Impact The OTT Industry?

This next-gen, future-focussed technology with faster connectivity will affect several segments within the media & entertainment industry including VR video, music, multi-game streaming, OTT content interaction, and more. However, the benefits that 5G intends to project will probably take a little more time before they get completely established. For those who wish to become content producers, this improved and enhanced connectivity will enable them to achieve their objectives without the need for huge investments and extensive equipment. They will be able to offer digital content to their target customers with much more efficiency and quality than before.

The capabilities of the 5G network will also benefit media advertisers. It will scale down the ad latency to about a millisecond, truncating the buffering issues that many viewers experience. One of the biggest opportunities to look out for is the Fixed Wireless Access-based video transmission. Apart from this remarkable enhancement, we can predict the arrival of HD videos as well as the extension of video delivery. As screen sizes and viewership surge, those who hail from the OTT industry should prepare for higher campaign demands. Nevertheless, the increased bandwidth availability and reliability will enable you to stream full HD videos even when you're on the go.

What To Expect In The Future?

Amid the existing scenario, we need to wait for the official deployment of the 5G network before we realize its full potential. Moreover, this super-fast connectivity would likely push and encourage viewers to stream OTT content more often, possibly making this approach the primary method of digital media consumption. Furthermore, CTV and OTT industries are among those who will reap the advantages of 5G the most. With its improved video delivery capabilities, reliability, data streaming speed, and negligible latency, we should all brace ourselves for this avant-garde digital solution known as 5G connectivity.

If you are looking for OTT app development solutions or intending to build your own video streaming application, feel free to drop us a line.
Request for Proposal
Cookies are important to the proper functioning of a site. To improve your experience, we use cookies to remember log-in details and provide secure log-in, collect statistics to optimize site functionality, and deliver content tailored to your interests. Click Agree and Proceed to accept cookies and go directly to the site or click on View Cookie Settings to see detailed descriptions of the types of cookies and choose whether to accept certain cookies while on the site.