Main Features
Implementing a CRM system can help businesses improve their bottom line by increasing customer satisfaction, loyalty, and sales. With our feature-loaded CRM software, businesses can track customer interactions and behaviors, analyze data to gain insights into customer needs and preferences and develop targeted marketing campaigns. Additionally, it can also be used to automate routine tasks, such as data entry and lead tracking, freeing up time for sales and customer service teams to focus on building relationships with customers.

Contact Management
Our CRM software allows you to store and manage all your customer contact information in one place. You can easily store and access information about your customers, leads, and prospects, including their contact details, purchase history, and communication preferences.

Sales Pipeline Management
With our integrated dashboard, get a clear overview of your sales pipeline and manage your business processes more effectively. You can track the progress of your deals, view the stages of each deal, and assign tasks to team members to move deals forward.

Task Management
Harness the power of our task management feature that lets you assign tasks to team members and track their progress. You can set deadlines, assign priorities, and get notifications when tasks are completed.

Marketing Automation
Our CRM software includes marketing automation tools that help you automate repetitive marketing tasks, such as sending emails, creating landing pages, segmenting your audience based on their interests and behavior, and running social media campaigns.
Reporting & Analytics
Get robust reporting and analytics with our advanced dashboard that provides real-time data on your business performance. You can track metrics and generate reports on sales performance, lead conversion rates, customer engagement, and more to make informed decisions.

Full Customization
We understand that every business may have unique requirements for CRM. Therefore, we offer extensive customization options and feature integration support, enabling enterprises to tailor the software to their specific needs.
Powerful Software System To Manage Your Customers
Automate, Streamline, And Make Your Business Processes More Efficient With Us

Customer Relationship Management
Our CRM features include contact management, lead tracking, sales forecasting, and customer data analysis. With our CRM tools, you can easily manage your customer relationships, track sales leads, and forecast sales revenue. You can also analyze customer data to gain valuable insights into their behavior and preferences, which can help you tailor your marketing strategies and improve your overall customer experience.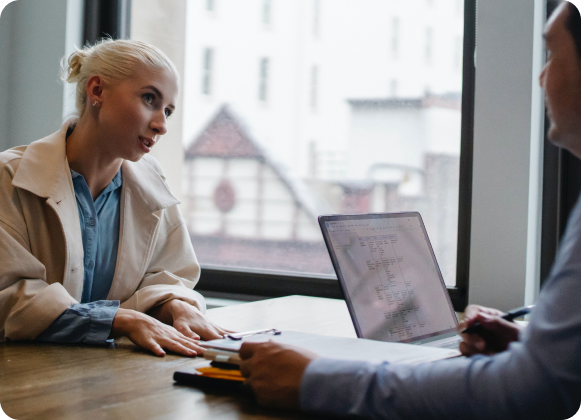 Frequently asked questions
Everything You Need To Know About Our CRM Software
Our CRM software with an integrated dashboard provides you with a comprehensive view of your customer data and business operations. It allows you to access important data, analytics, and reports from a single dashboard.
The CRM software that we offer comes with an integrated dashboard to improve efficiency, streamline workflows, and increase productivity. It allows you to access important data quickly and easily, make informed decisions, and respond to customer needs more effectively.
Our CRM software includes a range of features, such as contact management, lead management, sales pipeline management, marketing automation, customer service management, analytics, and reporting.
Yes, our CRM software with an integrated dashboard is designed to be user-friendly and intuitive. It is easy to navigate, with clear and concise menus, and customizable dashboards to suit your specific business needs.
Yes, our CRM software allows you to customize your dashboard to suit your specific business needs. You can choose which data and analytics to display, create custom reports, and set up alerts and notifications for important events.
To get started with our CRM software, simply contact us to schedule a demo or request a free trial. Our team will guide you through the setup process and provide you with the support you need to get up and running quickly and easily.
Have questions? Let's get in touch.