Oodles Technologies provides end to end solutions to completely manage and deliver your services with utmost priority and responsibility. Wowza Media Systems enable organizations to harness the power of streaming by reducing the complexities of video and audio delivery to any device. From Fortune 100 companies to small and mid-sized businesses depend on leading-edge Wowza software to build, deploy, and manage streaming solutions for the delivery of high-quality, engaging, live videos.
The Wowza Media Server is robust, customizable, and scalable server software with powerful APIs that integrate with other systems or third-party solutions to best meet organization's evolving streaming needs. Developers at Oodles have gained expertise in Video Streaming, Video Transcoding, and Streaming platforms over the last few years by offering finest level functionality to meet even the most complex requirement of clients.
Wowza 3.0 provides Live-video and video on demand streaming services. Streaming with Wowza Media Server, live H.264 video will be done with RTSP/RTP encoders and live H.264 streaming with MPEG-TS encoders.
The most interesting and vital feature of Wowza streaming is Content Security. At a given time, it only allows a small amount of video content in memory making your content highly secured. Streaming with Wowza also preserves bandwidth making its list of features even more alluring.
Simultaneous Media Streaming they Demand
Profitable Screen Delivery
Develop, deploy and monetize valuable services
Generate More Revenue
Unlimited Scalability
Value added applications to integrate with Backend Systems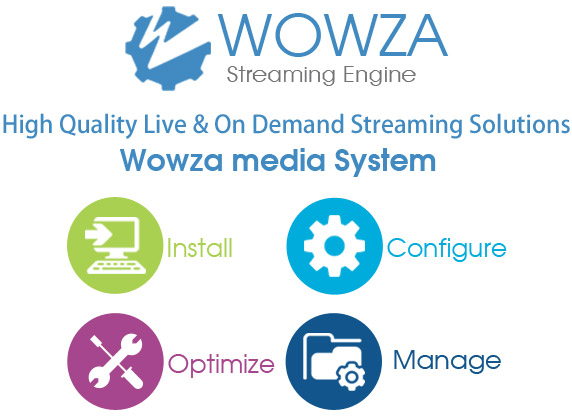 Join Oodles Technologies and deliver your customers what they demand with reliable and high-performance media streaming to any screen. When it comes to stream output, it's easy to see where Wowza Media Server really shines. Wowza not only changes protocols (from HTTP to RTMP to RTSP) but also creates segments for sets of files that share all the same parameters with the exception of the bitrate. To do so, Wowza is using SMIL as an aid to its on-the-fly segmentation for ABR playback.
Wowza also eliminates a decision point when it comes to types of file formats and extensions for H.264-base files, as Wowza supports FLV, M4V, MOV, MP4 extensions. These standard MP4 files, each at their own single bitrate, can be streamed to any protocol that supports raw H.264 streams, that's the essence of protocol conversion. In addition, files that share the same keyframe parameters, but have different bitrates can all be loaded into Wowza without the need to address segmentation beforehand. This means that the SMIL file can be edited easily in a text editor should an additional bitrate be required for a new device's optimal bit rate.
We provide high performance media server services globally for enterprises, advertising, entertainment and internet commerce domains. For more information regarding our services or any other questions that you may have, our technical experts are ready to assist you. We can be reached via live chat or phone, 24x7.
Oodles Technologies believes in providing the best Wowza Media Streaming Services to its clients. We use cost-effective and superior methods to stream videos, and also ensure content security. We deploy and develop valuable Wowza services which give our clients smooth reach to any screen. Our versed developers work on adaptive bit rate streaming, that is, streaming of video format based on user's bandwidth. Re-streaming of live video streaming is another skill of are highly capable developers. We help you reach a larger audience in this swiftly growing world of streaming media.
Contact us
at
info@oodlestechnologies.com
Discover our related services
Services and solutions that work best with OTT Video Solutions.
Strengthen your business capabilities with Oodles services