Delivering end-to-end blockchain app development services to strengthen your business processes with increased security, transparency, and traceability
We are a blockchain app development company that builds cross-platform enterprise applications based on the distributed ledger technology i.e blockchain. Our blockchain app development services strengthen business security and provides easy interoperability with increased transparency and operational efficiency. With our industry-rich experience, we help you navigate through the adoption, integration and implementation journeys of blockchain networks. Ready to infuse the future of technology? #bethenext.
Transformative Features of Our Blockchain App Development Services
Our blockchain app development solutions improve security, increase scalability, and establish transparent and trusted processes.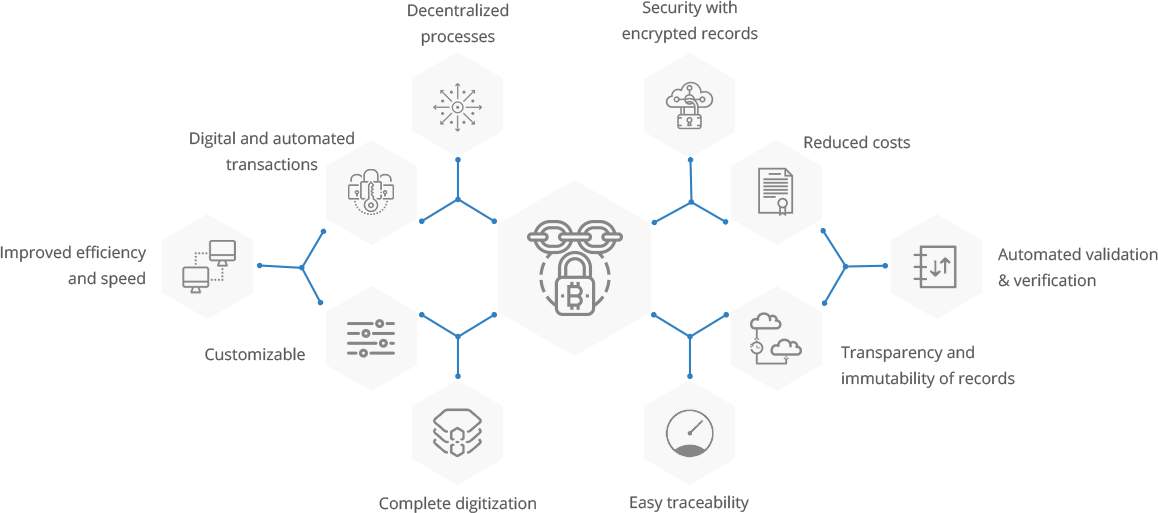 Transparency & security with encrypted records
Cost savings
Automated validation & verification
Optimized codes
Easy traceability
Complete digitization
Customizable
Error free, speedy processes
Digital & automated transactions
Decentralized processes
Our Blockchain Development Services
From technology consulting and development, to integration and testing services and beyond.
Smart Contract Development
We enable you to achieve transparent record keeping, make convenient transactions, automate monitoring, reduce intermediary costs, create accurate and immutable contract systems, and facilitate upgrades through our smart contract development.
ICO/STO Development
Stable Coin Development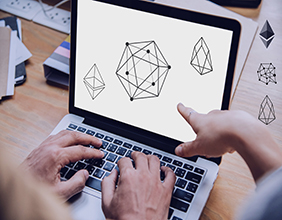 Blockchain Application Development
We are a seasoned
blockchain app development company
that builds effective solutions and cross-platform enterprise applications using the next-gen blockchain technology platforms. Our focused methodologies enable you to achieve more efficient processes and gain the competitive edge. The key services we provide includes:
Hyperledger Application Development
EOS Application Development
Ethereum Application Development
Stellar Application Development
NEM Application Development
Multichain Application Development
Credits Blockchain Development
Blockchain Solutions Development
Our implementations across multiple industries are easing out the challenges of processes and technology interoperability with
blockchain app development.
These include, but are not limited to:
Supply Chain Application Development
Education Application Development
Secure Application Development
Healthcare Application Development
Blockchain in ERP
Insurance/Claim Application Development
Identity Management Solutions
DRM Product Development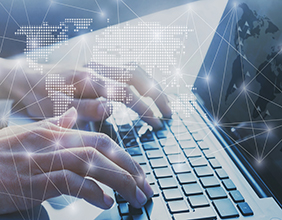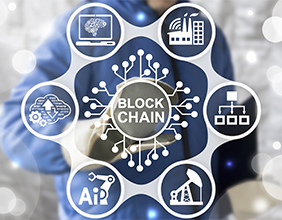 Custom Blockchain App Development For Business
Being the early adopters, our expertise in designing and developing custom protocols for blockchain meet your industry-specific dealings such as operations, business model, and enhance efficiency.
Integrating AI in Blockchain
Zero Knowledge Proof Implementation
Permissioned Blockchain Development
Blockchain Development
Fintech Application Development
At Oodles, we bring the relevance of blockchain to financial sector by facilitating faster payment infrastructure and processing at reduced transaction costs, enabling cross border payments, and creating a robust and decentralized financial ecosystem. Our versatile services include:
Exchange Development
Wallet Development
POS/Merchant Solutions
Crowdsale/ICO Development
Lending Solutions
Discover More About Our Blockchain Development Services
Avail our cross-industry blockchain application development services to drive business growth
DApp Development Services
We bring more innovation and solutions to your business services by developing decentralized applications. We enable you to leverage the power of blockchain and the robustness of dApps to solve business and customer issues by connecting buyers, sellers, and owners, explore e-commerce market, social media services, crowdfunding, gaming, and more.
Decentralized Control
Making operations autonomous and protecting applications against fraudulent activities
Ease of Data Access
Adding ease and simplicity for data access and related processes
Edge Computing
Supporting low-latency, security, data-sharing by leveraging blockchain based decentralized mobile edge computing
Fault-Tolerant
Making fault-tolerant, as DApps possesses decentralized network and doesn't have a single point of failure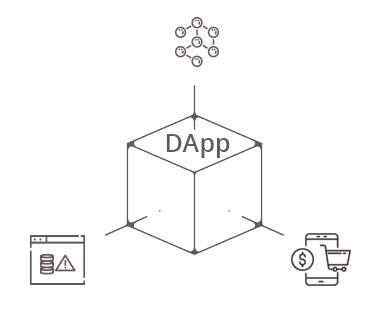 Hyperledger Application Development for Enterprises
With our Hyperledger application development services, we build blockchain based systems and applications apt for your industry using Hyperledger frameworks. We ensure that your projects developed under Hyperledger umbrella supports interoperability, security, business components (such as consensus, smart contract, communication), and has an extensible approach.
Hyperledger Blockchain Development
Maximizing confidence, resilience, and flexibility using Hyperledger blockchain stack such as Hyperledger-Fabric, Hyperledger-Burrow, Hyperledger-Sawtooth, Hyperledger-Iroha, Hyperledger-Indy as per the application utility.
Hyperledger Burrow

Optimizing applications for Ethereum Virtual Machine (EVM) specification

Hyperledger Fabric

Developing interactive application/solution on modular architecture for plug-n-play, membership services, etc.

Hyperledger Sawtooth

Building, deploying, and running distributed ledgers with consensus algorithm using minimal resource consumption

Hyperledger Indy

Providing digital identities for individuals and enabling them to programmatically share details with the organization and remarkably reduce data storage at organizational level

Hyperledger Iroha

Delivering high performance for small data and specified use cases such as digital assets, identity, serialized data using chain-based Byzantine Fault Tolerant consensus algorithm 'Yet Another Consensus' and the BFT ordering service
Hyperledger Development Tools
Utilizing Hyperledger tools such as Composer, Cello, Quilt, and Explorer for a fast-paced, productive blockchain application development
Custom Hyperledger Development
Providing customized Hyperledger blockchain development services as per business needs and increase performance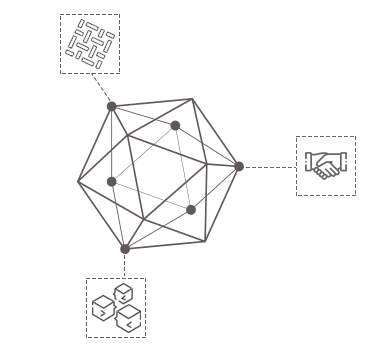 Ethereum DApp Development
At Oodles, our competent ethereum dApp developers create apps that prevents tampering of data, possess high resistance against security breach, and has zero downtime. We implement cutting-edge tools and technologies to bring the optimal development solutions as per the business demands.
Voting App
Developing ethereum decentralized voting app for inherent security, transparency, and accessibility
Truffle Framework for Smart Contract
Building enterprise level smart contract on truffle framework for easy management
Smart Assets
Offering independence, anonymity and cost-effective peer to peer transactions through smart assets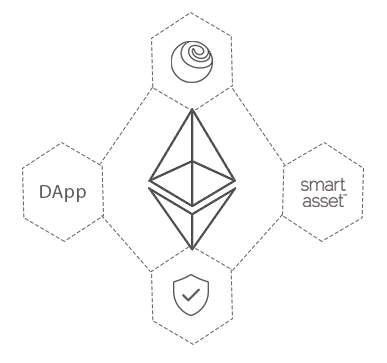 EOS DApp Development
We follow the best practices to create high performing decentralized apps on the EOS platform for your enterprise. Our DApp developers deploy fast and scalable decentralized apps with permissioned management system, facilitate cost-effective operations, and enable smooth migration to blockchain environment.
EOS Based Games
Building low latency decentralized games that offer fluidity to play in near-real time
Decentralized Apps
Developing and deploying enterprise grade apps that fit into the core value
Networking Apps
Enabling you to connect and chat in private through decentralized chat application
Wallets and Exchanges
Creating secure EOS wallets having private keys, continued upgrade, and protection from all latest threats
Token and Asset Contracts
Enabling enterprises for smart contracts, asset and token services for smart business transactions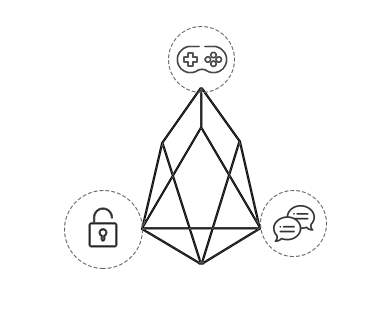 Cloud Based Blockchain Solutions
We help you adopt blockchain as a service model (BaaS), the viable cloud based solution for your ecosystem to simplify the technical complexities, operations, and infrastructure maintenance. Our expertise in handling backend complexities lets you manage processes easily, bring agility in infrastructure, and enhance operational efficiency.
Amazon QLDB Services
Bringing scalability, compliance with regulations, two-tier authentication for data, built-in analytics, automated updates, and disaster recovery capabilities
Azure Cloud Services
Maintaining a full history of data changes by tracking and scaling the applications automatically through Amazon QLDB, an immutable transactional log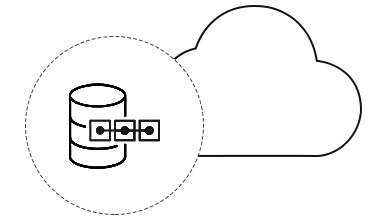 POC Development
We offer Proof-of-concept (POC) development services to create prototype for your pilot blockchain business use-case. We assist you in demonstrating the blockchain potential and feasibility in relation to your business value, and thus optimize the processes.
Fast Prototyping
Creating POC prototype at a faster rate to ascertain ideas/theory of your products
Business Agility
Conducting quick POC for your project and its validation to facilitate faster release to market
Cost Effective
Delivering cost effective solutions as your project have no hidden costs and is transparent