Get the best user-centric and customized IT solutions for personal and professional use of wearable devices to improve your market presence.
We are a
Wearable app development company
that provides user-engagement benefits in your business and customer service. Our
Wearable app development services
ensure smooth UX design across the wearable devices, right architecture for M2M communications, data visualization from a wearable sensor system, high performance with low power, aggressive marketing, and enable data acquisition from anywhere anytime for critical business decisions. Ready to be interactive and innovative?
#bethenext
.
Deliver detailed service to customers
Get access to company data always and improve customer care level.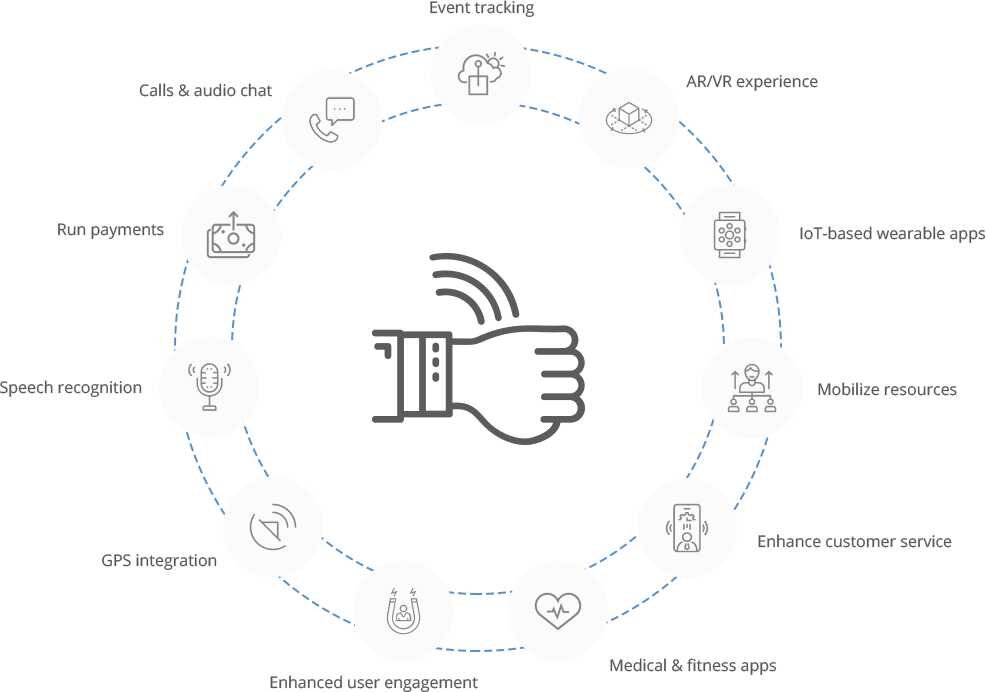 IoT-based wearable apps
Customer-centric
Client satisfaction
Medical & fitness
Higher user engagement
GPS integration
Establish quality standards
Weather tracking
AR/VR experience
Speech recognition
Notifications
Messaging
Calls & audio chat
Step into the future with wearable apps
Meet advanced operational and customer demands with innovative wearable applications.
Apple Watch App Development
We explore iOS technologies and binary action concept to build interactive and innovative Apple watch apps that contributes to your business enhancement. With powerful features such as glance and custom interface, we enable users to receive and respond to notifications in a convenient way.
Apple Watch Custom App Development
Apple Watch Utility Apps Development
Apple Watch E-commerce Apps
Apple Watch Web-based Apps
Health and Fitness Apps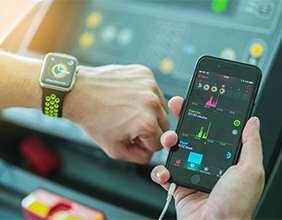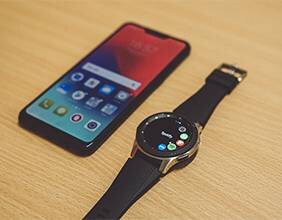 Android Wear App Development
We develop intuitive Android apps for wearable devices that enable you to connect with your customers easily. We enhance users' experience with your app with curated features, easier information sharing, custom displays, smooth functionality, and ensure that your business reach the competitive edge.
Android Wear App Development for IoT Devices
Android Smart Watch App Development
Android Wear Utility Apps Development
Migrating Existing Apps to Wearables
Bringing deeper user engagement with wearables
Leverage wearable technology for enhanced customer experience and business benefits.
IoT-based Wearable App Development
We deliver technological solutions to simplify business operations, build collaboration between devices and employees, bring instant interoperability, and gain business opportunities through wearable apps for IOT devices.
People-Generated Data
Sending prompt alert notifications on the users' wearable devices and help them understand their habits, health-related issues and care through insights from the raw data generated from activity trackers, smart watches, or the medical technology equipments
Tech Sends and Receives Communication
Sharing data between the devices (gateway device, smart home, smart vehicle, cloud services, etc.,) for process, analysis, autonomous interoperability in the IoT ecosystem and notify the users through text messages or the app alerts
Digital Payments
Making online or in-person payment transactions without the use of wallets with a few taps on the user's wearable device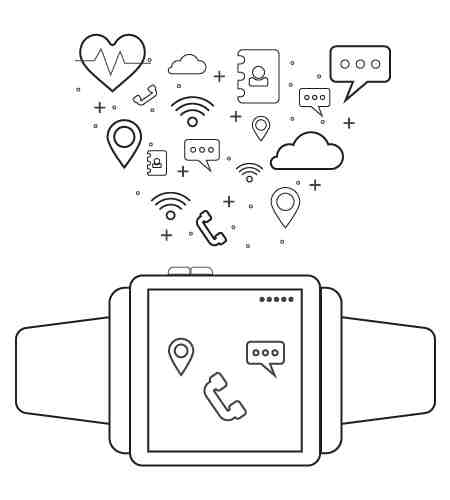 AR and VR Wearables App Development
We deliver value to your commercial business through captivating user experience with AR and VR apps for wearable devices. We offer business opportunities to present product, services, or the data in a creative and immersive environment.
Google Glass App Development
Offering optimal and augmented reality experiences through audio, video, and inputs based on location for the end users
Oculus
Delivering custom solutions for the Oculus VR platform with simulation solutions and immersive visualization to create brand experience for the users
Holographic Wearables
Developing holography for wearable devices to make demos more interactive, transform training processes, cutting down on the paperwork, and add the element of visualization to the planning processes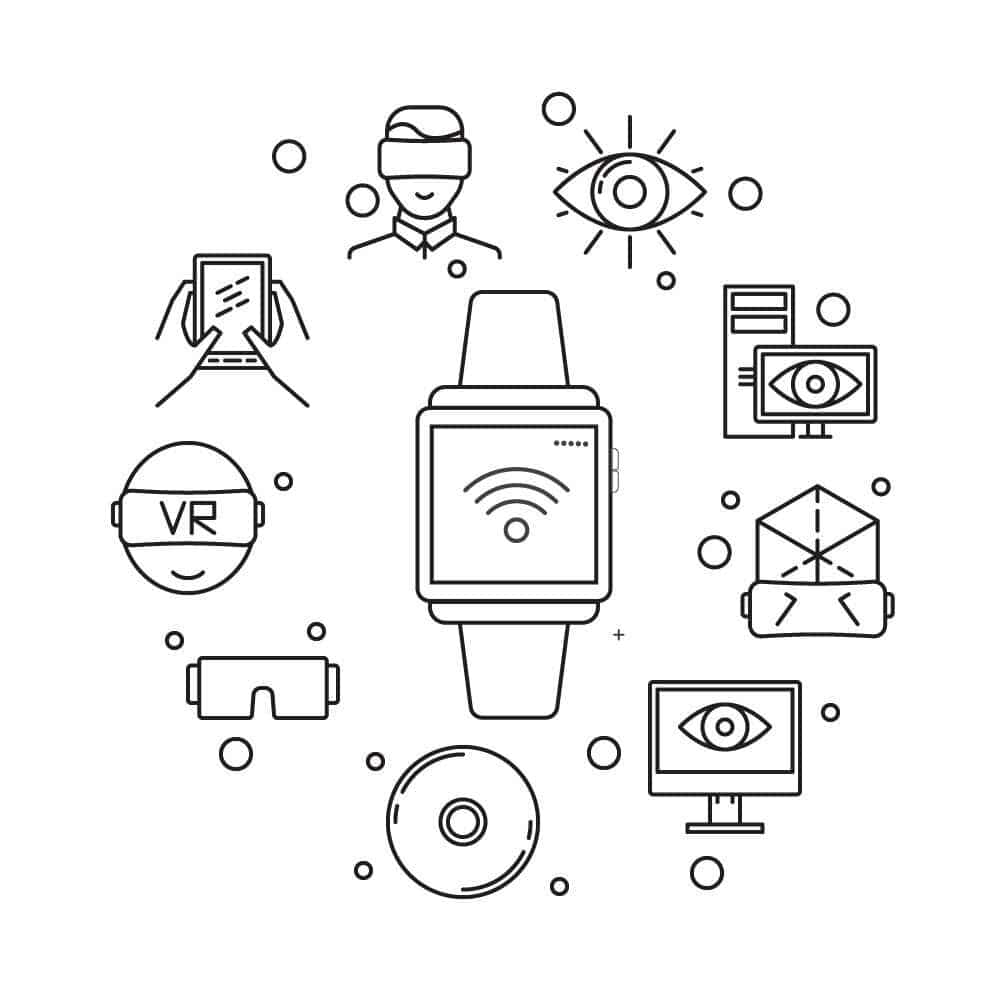 Wearable App for Health and Fitness
Our wearable app for health and fitness deliver the best personalized experience with multi-device synchronization for the users. We enable users to share data with trainers, connect third party devices, have personal trainer on demand, and more.
Activity Monitoring
Tracking and monitoring physiological parameters of the user, detect unforeseen situations and promote overall well-being of the individual using devices like Fitbit, Apple watch etc.
Health Monitoring
Adding value to healthcare through diagnosis, treatment, monitoring, preventive measures, and save healthcare costs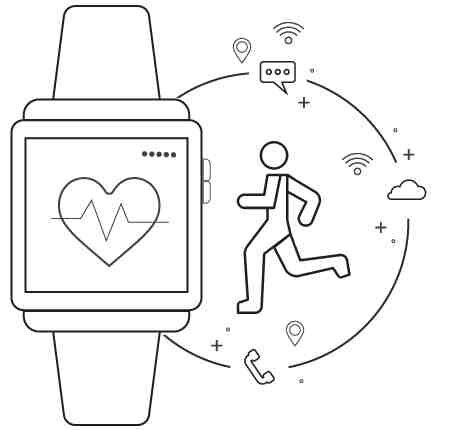 Utility App for Wearables
Explore wearable technologies for workforce management, improve operational efficiencies, reduce complexity and commercial purposes.
Payment App
Offering a secure, reliable, contactless, seamless, and cashless payment facility
Messaging App
Letting you connect always through messages, audio, or the video instantly
Event and Notification App
Facilitating complementary news/updates applications to publish events, send emails, reminders, and custom notifications, depending on platform events
Music App
Access millions of songs from the library on the go
Discover our related services
Solutions and services that work best with Wearable Technology.
Ready to innovate? Let's get in touch
Oodles Technologies | Wearable App Development Company
Request for Proposal
Cookies are important to the proper functioning of a site. To improve your experience, we use cookies to remember log-in details and provide secure log-in, collect statistics to optimize site functionality, and deliver content tailored to your interests. Click Agree and Proceed to accept cookies and go directly to the site or click on View Cookie Settings to see detailed descriptions of the types of cookies and choose whether to accept certain cookies while on the site.