Main Features
Our tech-enabled HRM platform equips HR teams with intelligent tools to manage employee data, performance, attendance, payroll & benefits, and more. Meticulously designed to simplify HR processes and enhance employee experiences, it enables you to focus on what matters most - driving your business forward.

Employee Management
Keep track of all your workforce information, including personal details, job titles, work schedules, and performance evaluations.

Time & Attendance Tracking
With our time and attendance tracking feature, you can easily monitor employee attendance, track leaves, approve time-off requests, and manage overtime hours.

Payroll & Benefits
Streamline your payroll process by integrating our HRM platform with your payroll system, and manage employee benefits such as health insurance and project allowances.

Performance Management
Set and track individual and team goals, conduct performance evaluations, and provide feedback to improve employee performance.
Recruiting & Onboarding
Create job postings, screen applicants, track talent acquisition workflows, and streamline the onboarding process with our HRM platform.

Analytics & Reporting
Gain valuable insights into your workforce with customizable reports on attendance, performance, turnover, project allocations, and more.
Powerful Software System To Manage Your Workforce
Automate And Streamline Business Processes With Oodles

Human resource Management
Our integrated HRM solutions facilitate comprehensive workforce management including time and attendance tracking, payroll processing, employee onboarding & training, and performance management with just a few clicks. You can also set up performance management metrics and track your employees' progress to ensure that your workforce is productive and aligned with your company's goals.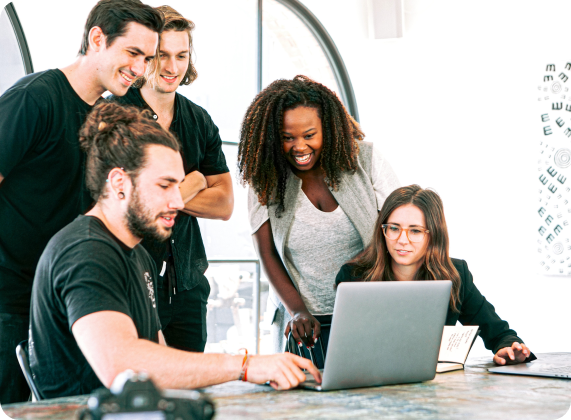 Frequently asked questions
Everything You Need To Know About Our HRM Software
HRM (Human Resource Management) software system helps businesses manage their human resources-related tasks and activities. It includes features such as employee records, payroll, benefits administration, performance management, and more.
An HRM software is equipped with an advanced dashboard that provides HR teams with a real-time snapshot of key HR metrics, enabling them to identify trends, monitor performance, and make informed decisions. It can also help streamline HR processes by reducing administrative tasks and improving communication between HR teams and employees.
An HRM dashboard can display a wide range of metrics, including employee turnover rates, time-to-hire, absenteeism, performance metrics, and diversity statistics. The specific metrics displayed on the dashboard can be customized to meet the needs of your organization.
Yes, an HRM dashboard is designed to be user-friendly and easy to navigate. It provides a visual representation of data and can be customized to display only the metrics that are most relevant to your organization.
An HRM dashboard provides HR teams with real-time insights into their HR operations, allowing them to make data-driven decisions. By having access to key HR metrics, HR teams can identify areas for improvement, make informed decisions, and optimize their processes for greater efficiency and productivity.
Yes, an HRM dashboard can be customized to meet the specific needs of your organization. You can choose which metrics are displayed on the dashboard, as well as the layout and design to best suit your organization's needs.
Have questions? Let's get in touch.