NodeJS Application Developers
Want to develop feature-rich & highly-customized applications for web and mobile platforms? Looking for diligent and progressive NodeJS Application Developers? Look no further. We, at Oodles Technologies have you covered!
Reach our team of experts for your development related queries. Get in touch. Ask for quote.
Why Choose NodeJs For Your Web or Mobile Project?
NodeJS is one of the four rich technologies offered by MEAN Stack. It is an open-source JavaScript based framework which is widely used for creating server-side web applications. It provides a powerful run-time environment for the developers to create scalable and dynamic web applications. All the basic modules of NodeJS are written in JavaScript so that the developers can easily write new modules.
The use of JavaScript makes it the first choice of all the developers. This is because JavaScript is by far the most preferred language today and besides that, it is known to all the developers. Another great benefit of using NodeJS is that it enables the developers to build network based real time applications. Over the past few years, there has been a drastic incline in the demand of network based web applications, thereby opening doors for NodeJS framework. Due to all these reasons, the popularity of NodeJS is skyrocketing these days.
Makes the backend development process fast
Runs on the V8 engine of Google resulting in faster code execution
Incorporates an Event-driven architecture
Provides powerful tools for building real-time web applications
Can be used for building social games and chat applications
Can be used for building live video streaming applications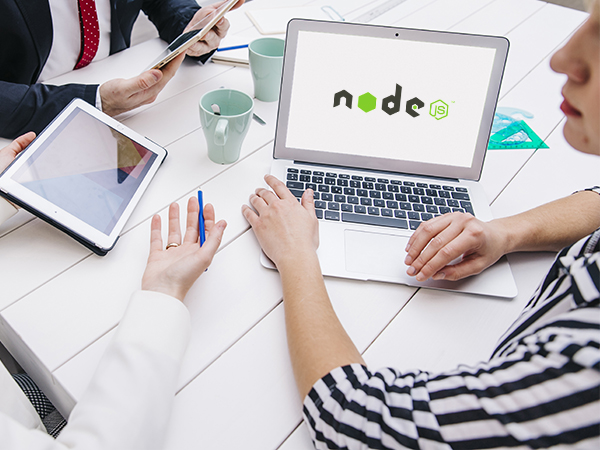 We, at Oodles Technologies are pioneers in NodeJS Application Development and we strive to deliver best-in-class web and mobile app development services at the best market rates. When it comes to MEAN Stack development, Oodles Technologies is one of the top rated companies you'll find in the market. NodeJS being one of the four technologies used in MEAN forms a significant part of our expertise. We have a seasoned team of NodeJS Application Developers, having years of experience in delivering avant-garde services to the clients from around the globe.
Our expert services are not only limited to the Web application platform but we also have an extensive experience in Mobile App Development. Our field of expertise also cover Video Streaming Applications based on Roku, Apple TV and Amazon Fire TV. The Video Streaming Experts working with us also make use of NodeJS in many stages. We have a widespread portfolio of clients from around the globe and we always seek new connections.
Discover our related services
Services and solutions that work best with SaaS Application Development Services.
AR/VR/MR Application Development
SaaS Application Development
Wearables Application Development
Strengthen your business capabilities with Oodles services