Grails Development Services
Struggling to find innovative and rewarding Grails Development Services? Search no more! Use our end-to-end SaaS solutions to stimulate your project requirements. Send us your queries. Ask for a quote.
Grails is an open-source, full stack web development framework based on Java and Groovy and can be deployed seamlessly into prevailing Java web servers. It encompasses scaffolding attributes that quickly allows you to create new projects, web applications and shows similarities with other languages such as Java, C, C++, Python, JavaScript, and Ruby.
Moreover, Grails provides high productivity because of its three properties like XML configuration, ready-to-use development environment, and functionality available through mixins. It also reuses existing Java technologies such as Hibernate and Spring under a single interface and is one of the most powerful rapid application development (RAD) frameworks.
Also, Grails outstands other web application frameworks and that's the reason it is used by the world's leading companies to develop their software products.
What Are The Advantages of Grails Web Development Framework?
Built-in testing at every level.
Automatic creation and deployment of Web Archives.
Able to run in any modern JEE/Servlet container.
Powerful domain specific language capabilities.
Simplified data management.
Convention over configuration framework.
Wish to know how our Grails App Developers can streamline your business? Let's get in touch.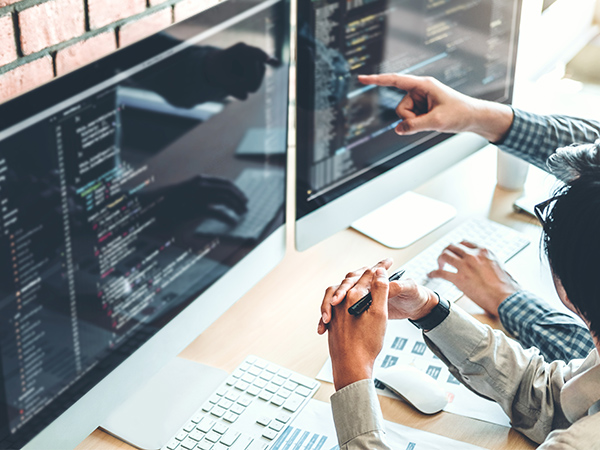 What Are The Grails Development Services That We Offer?
Grails Migration Services
Grails Custom App Development
Full-stack Web Application Development with Grails
Grails Development Outsourcing
Grails Upgrade & Support
Ajax Support in Frameworks
Flexible engagement models
Why Choose Us For Our Grails Development Services?
Oodles Technologies is a leading Offshore Grails Development Company with an extensive experience in the said niche. We have a seasoned team of Grails Apps Developers that are well-versed with Groovy and are capable of building top-notch websites and web applications. Over the years, we have worked on a large number of web development projects and therefore always strive to deliver the best-in-class Grails Web Application Development Services to our clients at cost-effective prices.
Nevertheless, we follow a full 360 degrees approach and furnish transparent solutions that are customized to meet the business requirements. We also offer post-launch support and assistance to the companies for complete exposure and provide full guidance throughout the development process.
Discover our related services
Services and solutions that work best with SaaS Application Development Services.
AR/VR/MR Application Development
SaaS Application Development
Wearables Application Development
Strengthen your business capabilities with Oodles services