Why Enterprises Need Corporate Video Conferencing Apps
Posted By : Priyansha Singh | 12-Jul-2021
Why Enterprises Need Corporate Video Conferencing Apps?

In the last few years, businesses have drastically changed the way they operated and the COVID-19 pandemic has further fuelled the transformation. Most agencies already have a social media presence, websites, customer service or automated chat options. However, one crucial communication channel that many businesses are recognizing is the importance of employing video conferencing apps.

In order to stay ahead in the competition, it is essential to keep up with the technological times and customers' expectations. Real time video conferencing provides your clients with what they want and the benefits of interacting with you anywhere and anytime.

Moreover, effective communication is also a key to employee productivity and successful task execution. All in all, in this article, we will discuss why present-age companies need video conferencing applications.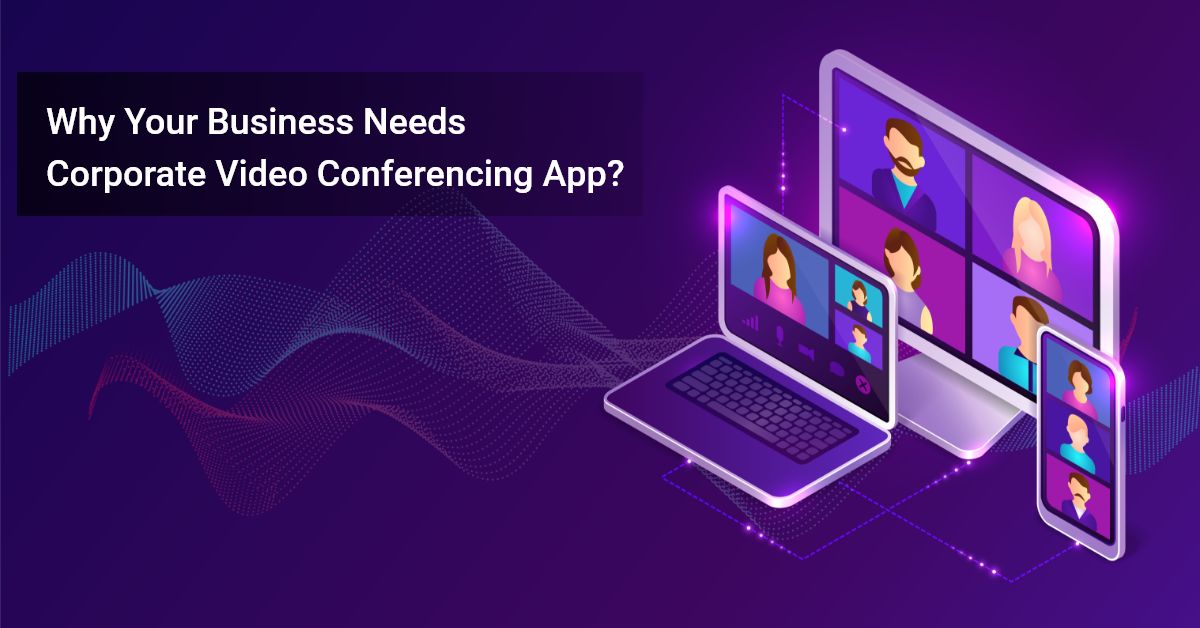 Benefits of Video conferencing apps:

Group training

Decrease in travel

Removal of geographical barriers

Ability to have instant video calls without booking the conference halls

Increased collaboration

Efficiency and productivity gains

Key Factors To Consider Before Developing a Video Conference App For Your Business

Annotation features

Group chat

Secure & trusted

Ability to record and share meetings

No need to download

Ability to brand under your enterprise name and logo

Features of Video Call Apps

Based on our technical expertise and experience, we have highlighted several aspects and features of video conferencing apps for you to consider.

Screen Sharing

For any type of video call solution, screen sharing is the number one feature. It is crucial for providing full-fledged and end-to-end interaction between the conference call participants and as everyone can see the real-time presentation.

Multiple Webcam Abilities

In order to make all your employees visible at business meetings, the video call application should support advanced webcam abilities to display each and every employee on the screen. The option is built to offer a seamless participation effect so to make the entire communication process more live-ish.

VoIP

Voice over Internet Protocol is the most sought-after approach to delivering high quality video and audio communications over the internet. You may experience poor or lost internet connection, however, using VoIP makes the conference experience smooth where participants can also select between video and audio calls.

Chat Feature

When joining a conference with a large number of participants, it is tough to get a chance and speak. Therefore, having an integrated chat feature is absolutely essential for video conferencing apps, especially for mid and large-scale companies. Along with texts, participants can also share multimedia files or useful links.

Also Read: Top Industries That Can Benefit From Video Streaming App Development
Unlimited Recording

Video recording is a must-have feature for any business or organization conference calls. There are often chances when some employees cannot be present for a virtual meeting but the video call is extremely important to attend. Hence, it is vital to provide unlimited video recording functionality as ready-made video call apps generally have time limitations or additional charges for unlimited records.

HD Video Quality

Virtual call recording without High-Definition video is meaningless, isn't it? Nevertheless, HD videos are always perceived and viewed much better so that every employee or client could seamlessly see the speaker and continue the conversation.

Dynamic Presentation

In the existing technological era, simple presentations and slides would come as no surprise to anyone. Well-structured PPTs often contain multiple file types such as PDF files, videos, animations, and more. Therefore, enterprises need to ensure that a video call application should display all of these extensions and add-ons correctly for all the participants in the meeting.

Branding Features

If your company holds video conferences and webinars not only for internal employees but also for public participants, having a brand watermark is essential. It can also be embedded during client presentations, making your workflow and approach more presentable and professional.

Final Thoughts

In the current days, video conferencing has become an integral part of the external and internal communications of enterprises. The pandemic has normalized the work from home routines and employees are not rushing back to come to offices any soon. Companies that haven't inculcated video conferencing solutions in their workflows yet should indubitably consider developing a video call application to deliver highly qualified and continuous interaction within the organization. At Oodles Technologies, we build custom, secure, and reliable video conferencing apps for businesses of all shapes and sizes. To discuss your requirements, feel free to drop us a line and our experts will get back to you within 24 hours.
Request for Proposal
Cookies are important to the proper functioning of a site. To improve your experience, we use cookies to remember log-in details and provide secure log-in, collect statistics to optimize site functionality, and deliver content tailored to your interests. Click Agree and Proceed to accept cookies and go directly to the site or click on View Cookie Settings to see detailed descriptions of the types of cookies and choose whether to accept certain cookies while on the site.