Top 4 CRM Features To Implement In Your OTT Business
Posted By : Priyansha Singh | 16-Sep-2022
Best CRM Features To Add To Your OTT Platform
For any OTT business, subscribers and total user base are its lifeblood. Acquiring new subscribers, marketing to prospective customers, analyzing performance, reducing churn, processing payments, and customer support are at the core of an OTT operation.
While there are hundreds of CRM software readily available in the market today, it is imperative to know which features and functionalities will work best for your business. Moreover, in order to maximize efficiency and have a seamless user experience right from registration and billing to middleware integration and helpdesk support, custom CRM software specifically designed for the OTT platform is the sole recipe for success.
In this blog, we have mentioned the top 4 CRM features that have proven to be exceedingly exceptional when it comes to CRM software development for OTT platforms from the ground up. So, let's get started.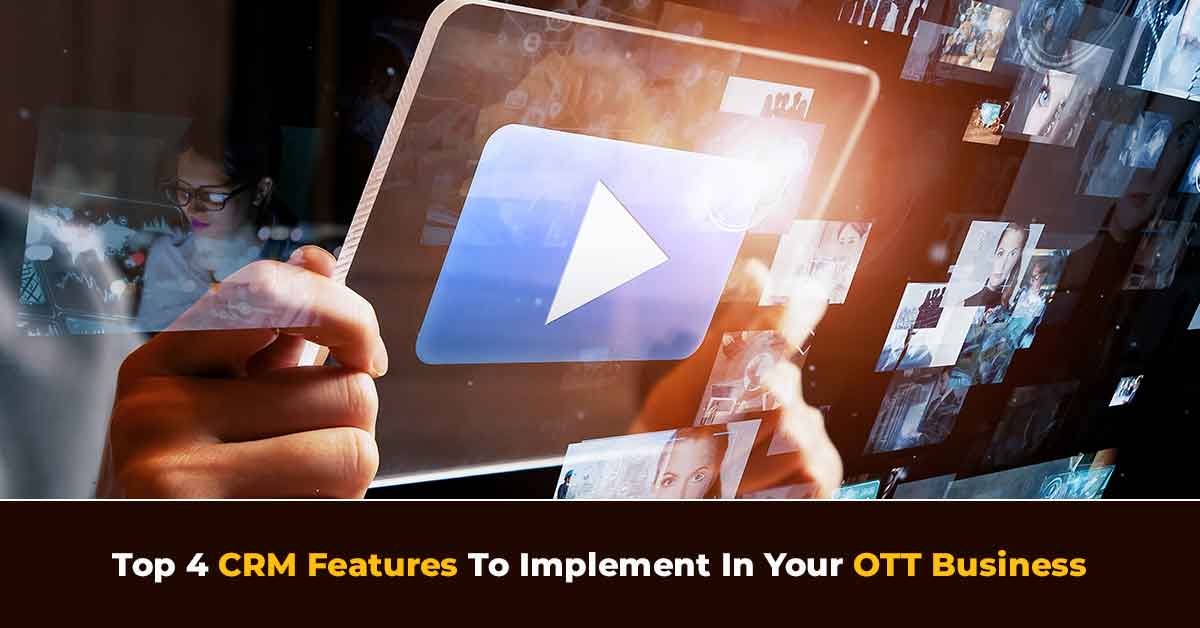 Why custom CRM software development is crucial for your OTT platform?
CRM or customer relationship management software helps in managing and automating the customer lifecycle for sales & marketing, performance management, and subscription management. CRM software typically consolidates critical user details into a single repository. It enables businesses to better organize and manage customer relationships, automate common operational processes, and provides tools & analytics for monitoring the productivity and performance of the platform.
A custom-built CRM software for OTT businesses also integrates organizational processes across marketing & sales and customer service with pivotal features and functionalities that can strategically serve as key initiatives across various departments. Here are some of the most commonly implemented CRM attributes:
Contact management

Lead management

Interaction tracking

Document management

Email integration

Pipeline management

Proposal/Quotes management

Workflow automation

Sales forecasting

Reporting/analytics

Activity & task management

AI-enabled data processing
4 Best CRM features to implement in your OTT platform
Analytics
Powerful analytics allows OTT businesses to gain deeper insights into how their platforms are performing. It furnishes big-picture issues such as gauging the overall efficiency of the sales pipeline or identifying where the potentials churn the maximum.
Actionable insights for everyone: Powerful CRM analytics enables businesses to make data-driven decisions – a key to success.




Slice and dice data: Discover new data trends to formulate a holistic view of your tasks, quotes, leads, and much more.




Share & export: Export reports and useful information in a multitude of formats and file types such as Excel and PDF.




Advanced filters: Dynamic search and filters allow for effective and quick sifting of data – powerful drill-down abilities.




Templates for easy analysis: You can select from predefined templates of various chart types.
Also Read: Increase Business Revenue With These OTT Monetization Models
Subscription management
OTT CRM can be used to extend individual and custom-tailored subscription packages & bundles with add-on services and promotional offers while offering exceptional after-sales support to customers. Apart from that, CRM software can also be used for handling payment lifecycles for powerful subscription management including a plethora of related tasks such as:
Easy management of customer subscriptions

Streamlined customer acquisition

Global billing customization and automation

Rich subscription and user data metrics/analytics

Accepting and securely processing global payments
Moreover, if you are looking for CRM services that turn potential customers into real ones, free subscriptions and trials are consequential for getting the ball rolling in acquiring a new customer base. In this context, trial automation is incessantly one of the most vital features that any CRM software can have. You also need to have other crucial attributes such as:
Trial extensions

Trial automation

Trial-ending reminders with payment URLs

Easy & quick integration with payment gateways/processing

Hassle-free and easy-to-create custom checkout page
Sales automation
The sales automation feature enables you to automate repetitive, manual tasks, augment productivity, and streamline work & operations. In addition to this, it can prove extremely useful in freeing up time so the sales department can focus on strategic, more meaningful tasks, and winning deals.
Customized automation functionality for OTT platform development can help with tasks such as:
Account management

Contact management

Lead management

Deal management

Trial management
It can also help in day-to-day and mundane tasks like:
Tracking contacts

Sending emails

Scheduling appointments

Updating sales opportunities
Customer care and support
Well-managed customer care and support are the linchpins of a successful OTT operation. Creating an integrated solution with a robust ticketing system that efficaciously tracks issues, creates resolutions, generates trouble tickets, and evaluates the efficacy of the business is the key to smooth operations.
An automated helpdesk and customer support system enhances sales productivity, builds loyal users, and keeps subscribers happy. Nevertheless, a context-aware helpdesk holds the potential to transform the overall customer service experience.
Looking for CRM software development services for your OTT business?
If you are planning to architect a scalable OTT platform, custom-built CRM software is the smart way to go. At Oodles Technologies, we provide a comprehensive range of CRM services specifically designed for enterprises across a myriad of industries. We offer powerful and robust solutions for controlling subscriber management, monitoring payments & sales, facilitating seamless operations, enabling marketing automation, and agent sales performance. As an established OTT platform development company, we assist enterprises to harness the power of best-in-class CRM software design and development to maximize the performance of their OTT site. Our team of seasoned OTT developers and CRM professionals help in constructing a well-defined structure for customer issues and resolutions in order to minimize churn, make sale operations more efficient & effective, and create happy customer-based relationships. Through custom CRM software for OTT business, we also aid in analyzing data and gaining actionable insights into the business for tangible results and success. If you are looking for custom CRM software development solutions for your OTT platform, feel free to drop us a line. Our experts will get back to you within 24 hours.
Request for Proposal
Cookies are important to the proper functioning of a site. To improve your experience, we use cookies to remember log-in details and provide secure log-in, collect statistics to optimize site functionality, and deliver content tailored to your interests. Click Agree and Proceed to accept cookies and go directly to the site or click on View Cookie Settings to see detailed descriptions of the types of cookies and choose whether to accept certain cookies while on the site.