Trending App Development Ideas For Real Estate Businesses
Posted By : Priyansha Singh | 16-Jun-2021
Trending App Development Ideas For Real Estate Businesses

Real estate is a highly competitive and fast-paced industry. In order to succeed and thrive in the sector, businesses need to elevate their client experience and build credible relationships with the users.

Building feature-rich apps is an ideal solution as it provides greater efficacy and helps realtors sell properties through devices such as tablets and smartphones. In 2021, there are numerous real estate app development ideas that are offering cutting-edge results to businesses. In this article, let's discuss the key benefits of real estate apps and provide credible ideas for tangible results.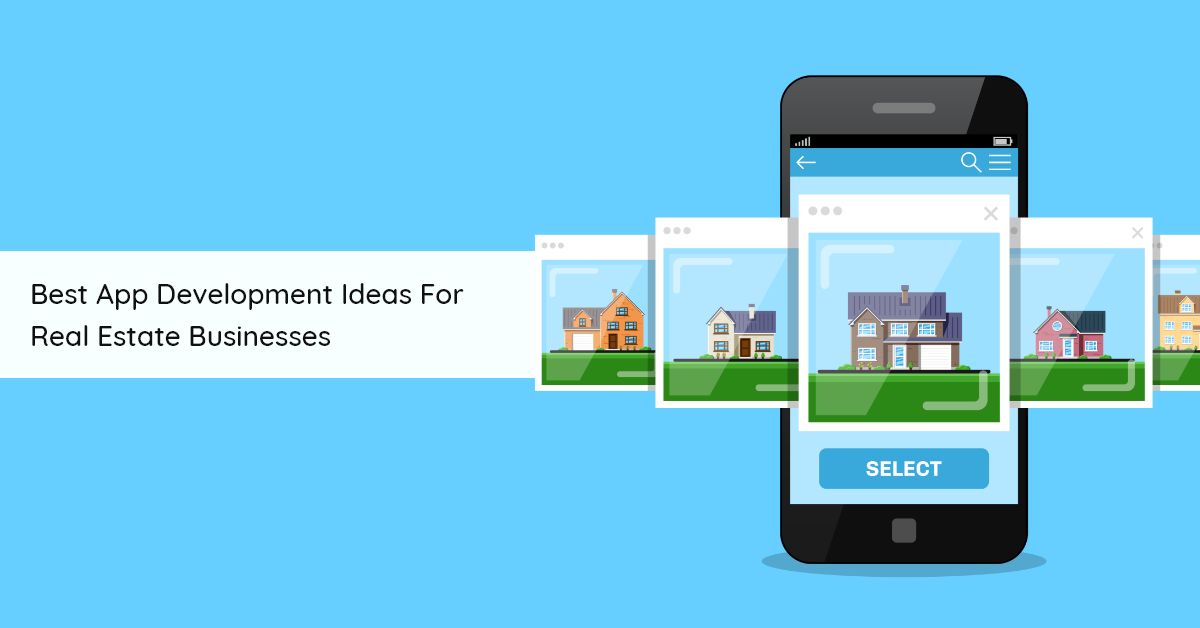 Real Estate App Ideas For Your Business

If you wish to start investing in your real estate empire, let's delve into some of the most sought-after app development ideas in 2021.

Real Estate AR/VR App

Showcasing properties using AR/VR technology is one of the lucrative real estate business ideas in 2021. It is estimated that the AR/VR app market in the real estate sector is projected to reach $2.6 billion by 2025. These apps virtually enable clients to view properties at any time and from anywhere.

Since the integration of AR/VR technology can virtually display all interior elements of properties, it is relatively easy for buyers to visualize its interior designs.

Property Listing App

Research suggests that nearly 93% of the buyers first explore real estate website's online listings. Depending on the below mentioned factors, online listings can be classified into:

Listing properties for rent and sale

Properties that are just for rent

Properties that are just for sale

You can create a property listing application where the owners can sign up and list their properties with detailed information. Buyers and renters can look out for properties depending on their needs.

Document Library App

Selling or lending properties can include checking lots of documents and oftentimes, it is tough to ensure that all documents are instantly available. Mobile application development can help you gather required information in one space and categorize them as per client requirements so that accessing them becomes easier. This makes it easy to showcase crucial documents to clients amid meetings using a smartphone device.

Property Investment App

You can build an app that will offer insights and info to the prospective investor or assist in associating with every investment decision in the real estate market. A real estate application must have an integrated chatbox where users can raise any query for hardships that they might experience during real estate investment.

Nevertheless, the app must have an in-house expert who specializes in the real estate industry and can provide solutions to all questions, giving them the advice to make informed investment decisions.

Lead Generation App

Generating qualified leads is another crucial aspect of the selling or renting procedure of properties. In case you need to engage with targeted and potential buyers actively, real estate apps and platforms can immensely help you. The form feature of your property listing application can enable you to create leads by getting data from the users whenever they make an inquiry regarding a property.

This info can be saved in the CRM system and you can even use it for optimizing sales actions and creating buyer profiles. Users will be required to provide personal data by just registering for your application. You can further utilize tracking software such as Google Analytics to check how users are engaging with your app and approach others who can highly score as leads.

Also Read: Embedded Finance: The Next Big Revolution In The FinTech Landscape
Developing a Real Estate App With Oodles Technologies

Choosing the right tech stack for building a real estate app might be very difficult and confusing. However, our seasoned team at Oodles Technologies can help you with developing a progressive and feature-rich mobile app. We recommend two feasible options:

Developing the web app and mobile app separately

Depending on the operating systems of the devices, different technologies will be used. Android tech stack would include Java or Kotlin, while iOS will predominantly use Objective C or Swift. This process might be a bit time consuming as it requires creating separate code bases for mobile and web applications.

Cross-platform app development

Cross-platform app development uses one code base that would be shared across other platforms such as Android or iOS. Progressive web app (PWA) development is another significant option. The development framework can be Iconic or Angular as it is one of the most versatile and successful platforms.

If you'd like to build a real estate application for your business, connect with our experts.
Request for Proposal
Cookies are important to the proper functioning of a site. To improve your experience, we use cookies to remember log-in details and provide secure log-in, collect statistics to optimize site functionality, and deliver content tailored to your interests. Click Agree and Proceed to accept cookies and go directly to the site or click on View Cookie Settings to see detailed descriptions of the types of cookies and choose whether to accept certain cookies while on the site.