How Startups Can Benefit From AWS IoT Core
Posted By : Anirudh Bhardwaj | 05-Jun-2020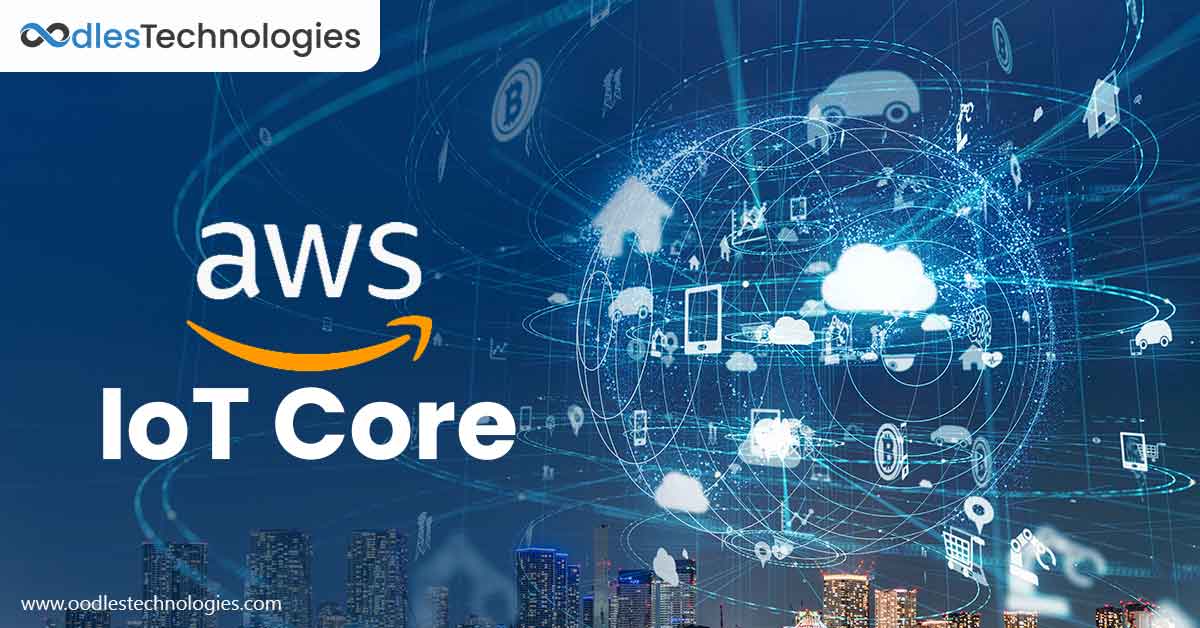 The internet of things is becoming increasingly popular as the market of connected devices has grown tremendously over the recent years. As of today, we have billions of connected devices exchanging data every minute to enhance user experiences with improved communications. According to Gartner, the IoT-based applications in enterprises and automotive market will grow to 5.8 billion endpoints by the end of 2020.
The rapid expansion of the Internet of Things is inflicted by the advent of a wide range of connected devices like wearables, smart speakers, smart locks, and other types of smart home and office automation equipment. Understandably, the demand for IoT application development is at the all-time-high these days.
At Oodles Technologies, we have been receiving requests for developing different types of IoT applications. A majority of clients also request cloud integration to ensure that their IoT app performs seamlessly with better security, accessibility, scalability, and interoperability. To address their project requirements, we use AWS IoT Core, a standalone cloud-based IoT platform for building performance-driven IoT apps.
Based on our experience in AWS IoT Core development services, we highlight the key areas where our clients benefit from this platform. At the same time, we also shed light on the nitty-gritty of AWS IoT Core and how startups can benefit from it.
Also read Building Mixed Reality and IoT Solutions Using Azure
What Is AWS IoT Core?
AWS IoT Core is a fully managed cloud service that lets you connect a wide range of devices to the AWS cloud. It facilitates a seamless interaction between various cloud applications and IoT devices with increased security and flexibility. AWS IoT Core can support billions of devices and is capable of handling trillions of messages and processing them in real-time for effective communications. Furthermore, it routes these messages to AWS endpoints and other connected devices in a secure manner. It lets you build applications to keep track of all your devices and their communications with other devices even while offline.
Source: Amazon
The above diagram clearly delineates the basic architecture of an AWS IoT Core application.
Enterprise Benefits of Using AWS IoT Core
Using AWS IoT Core for building a centralized IoT-based application provides several benefits to startups and small-to-medium enterprises. As already mentioned, it can handle billions of devices and trillions of messages and provides better interoperability with increased security, scalability, and accessibility. Below are the main enterprise benefits of using AWS IoT Core for IoT-based application development with the flexibility of the AWS cloud.
Accelerated IoT App Development
AWS IoT Core provides a straightforward path to building interactive IoT applications that let you centrally manage your IoT devices. It reduces development complexities and accelerates the process to reduce time-to-market. Developers can use the same codebase for cross-platform app development that brings significant cost and time savings. Furthermore, they can seamlessly integrate the application with other AWS services like AWS Lambda, Amazon S3, Amazon EC2, and more.
Serverless Architecture
Building a serverless application is a great way for startups to validate their business ideas. Since they don't have to manage a remote server or set up a server of their own, it significantly reduces costs. At the same time, they get a better control over their application and instant accessibility across a wide range of devices. Having a serverless application architecture enables developers to focus on their core operations without getting bogged down due to server maintenance.
Increased Security
Data security remains a major concern for enterprises that implement IoT in their business processes. Maintaining high security standards is essential to ensure that your business data is protected against all types of cyber attacks. Having said that, AWS IoT Core renders top-tier security to data transfers between application and connected devices are adequately protected. Below is a neat architecture diagram that illustrates the security model of AWS IoT Core.
Source: Amazon
To ensure that, it incorporates multiple authorizations, authentications, and end-to-end encryption across all levels. Besides, it performs HTTPS-based communications across the connected devices and facilitates secure messaging in-line with MQTT protocol. Above all, AWS IoT platform uses advanced authorization methods i.e SigV4, X.509.
Support For AWS Services
The added benefit that startups can avail by opting AWS IoT Core development is the integration support for other AWS services. IoT Core makes it easy to use a variety of Amazon cloud services such as AWS Lambda, AWS CloudTrail, Amazon DynamoDB, Amazon S3, Amazon Kinesis, and QuickSight. They can also integrate with Alexa Voice Service to establish seamless communications between the connected IoT devices.
Easy To Manage
AWS IoT Core lets you securely connect an increasing number of devices to the cloud and to other devices. Besides, it lets you build an intuitive application interface to centrally manage connected devices and their data with increased security and accuracy.
You may also be interested in reading Scaling Up Cloud App Performance Using Amazon DynamoDB
Closing Remarks
There is no denying that AWS IoT Core could be a game changer for startups and small-to-medium enterprises. Several fortune 500 companies and large-scale enterprises are already thriving on Amazon Web Services for most of their operations. That said, building an IoT application on top of the most extensively used cloud platform will help you edge ahead of your competitors. AWS IoT Core is flexible, versatile and cost-effective as it charges enterprises on a pay-as-you-go basis. As a result, startups and SMBs can easily build a scalable application to capitalize on their existing IoT resources.
Why Choose Oodles For AWS IoT Core Development Services?
We are a seasoned IoT application development company that specializes in building cloud-based IoT solutions for varied business requirements. We are experienced in using AWS cloud services to develop scalable, secure, and feature-rich applications to support a wide range of devices. Our AWS IoT Core development services put you in a better control over your IoT devices and render integration support for a wide range of Amazon Web Services.
Request for Proposal
Cookies are important to the proper functioning of a site. To improve your experience, we use cookies to remember log-in details and provide secure log-in, collect statistics to optimize site functionality, and deliver content tailored to your interests. Click Agree and Proceed to accept cookies and go directly to the site or click on View Cookie Settings to see detailed descriptions of the types of cookies and choose whether to accept certain cookies while on the site.