Building Mixed Reality and IoT Solutions Using Azure
Posted By : Anirudh Bhardwaj | 08-May-2020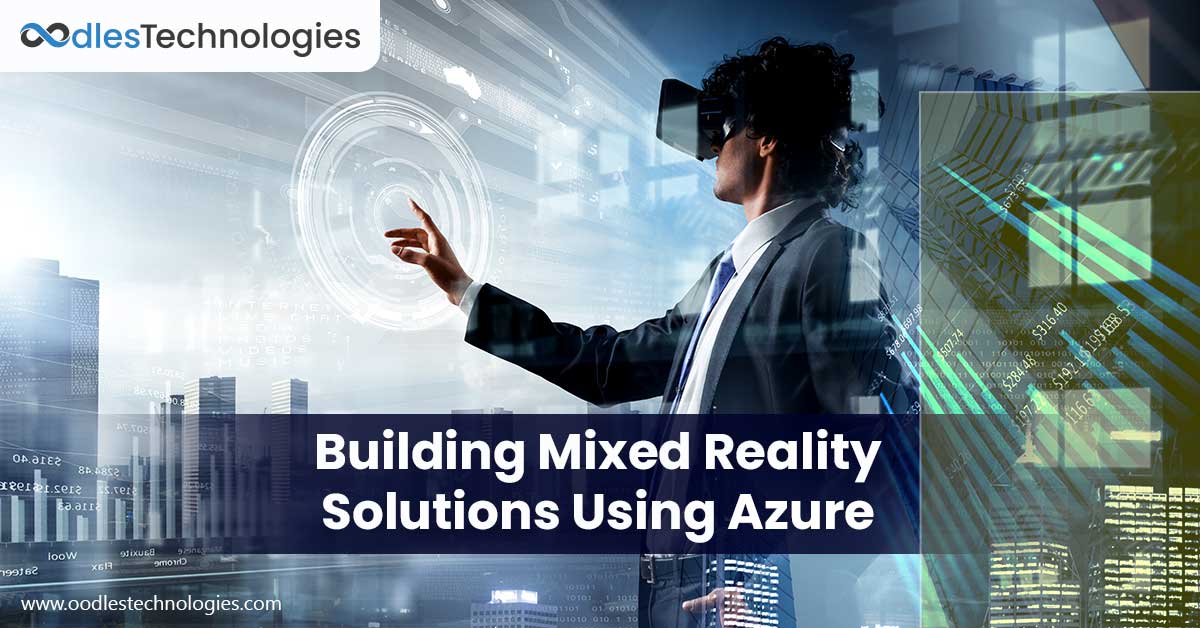 Immersive applications, powered by next-gen technologies like augmented reality, virtual reality, and mixed reality are rapidly gaining traction worldwide. After successfully transforming various industries like gaming, entertainment, and advertising, these technologies are set to enter the mainstream market. Several retail brands and e-commerce companies are already using AR VR techniques to enhance their customer experiences. An increasing number of hotel and restaurant chains are training their staff using real-life simulations powered by virtual reality.
Owing to the increasing popularity of these immersive technologies, several small-to-medium companies are investing in AR app development services. At Oodles, we receive several requests for building different types of AR, VR, and MR applications. A majority of clients propose building a multifold application with a serverless architecture. To fulfill their requirements, we use several high-end AR VR tools as well as platforms Azure, Google, and AWS.
In this blog post, we shed some light on the main benefits of using Azure Spatial Anchors for building high-quality augmented and mixed reality applications.
What Is Mixed Reality?
A majority of users are familiar with terms like augmented reality and virtual reality because of their increased global popularity. However, there is a lot of misconception about mixed reality amongst users. Many users can't discern the difference between virtual reality and mixed reality. Although the mixed reality is essentially the enhanced version of virtual reality, it has several unique characteristics. In broad terms, mixed reality combines virtual elements with the real-world environment to create an immersive three-dimensional space where physical and virtual objects co-exist.
Also read Enterprise Benefits of Implementing Cloud Based IoT Solutions
Building Mixed Reality Apps Using Azure Spatial Anchors
Azure Spatial Anchors is a fully managed cloud service from Microsoft that lets you build serverless mixed reality applications with cross-platform compatibility. Using Azure Spatial Anchors, developers can build high-quality applications for popular device platforms like Android, iOS, HoloLens, ARKit, and ARCore. Below are the main benefits of using Azure Spatial Anchors for building immersive mixed reality applications.
Creating Collaborative Experiences
With Azure Spatial Anchors, you can create immersive mixed reality experiences to collaborate with your peers in a more meaningful way. These collaborative experiences facilitate the study of complex elements and structures and provide an effective way to training staff. The mixed reality apps developed using Azure Spatial Anchors render support for a variety of devices such as HoloLens, ARKit-based iOS devices, and ARCore-based Android devices. You can develop apps using the native SDKs for the supported devices.
Location-based Holograms
Azure Spatial Anchors lets you create engaging three-dimensional spaces with virtual elements interacting with physical objects. You can easily map the virtual spaces by connecting points of interest to engage your target audience. Azure lets you place location-based holograms with minimal environmental setup or QR codes. One can share these holograms across multiple devices.
Infusing Artificial Intelligence and IoT Services
With Azure Spatial Anchors, you can easily integrate your application with next-gen technologies like artificial intelligence and machine learning. Besides, you can integrate the mixed reality applications with IoT services to access through your connected devices. It also lets you develop standalone IoT applications with MR-based features and capabilities. At the same time, you can safeguard your mission-critical enterprise data with Azure cloud support.
You may also be interested in reading Things To Consider For Augmented Reality App Development
Closing Remarks
Azure Spatial Anchors is used by several companies, mainly to enhance their staff training programs. For example, Pearson Education has built a mixed reality solution using Azure that enables nursing students to perform complex health diagnosis in a real-world environment. Similarly, several educational institutes use MR applications to train aspiring surgeons by letting them perform virtual surgeries.
Why Choose Oodles Technologies For AR Application Development?
We are a seasoned AR application development company that builds high-quality AR/VR and Mixed Reality applications with cross-platform compatibility. We use the latest tools and technologies to build immersive AR/VR/MR applications that maximize user engagement and interactivity. Our development team is skilled at using advanced tools and cloud platforms like Azure, AWS, and Google Cloud to build engaging AR/VR/MR applications with a serverless architecture. We also have our expertise in IoT application development and we provide seamless IoT integration for AR/VR/MR applications.
Request for Proposal
Cookies are important to the proper functioning of a site. To improve your experience, we use cookies to remember log-in details and provide secure log-in, collect statistics to optimize site functionality, and deliver content tailored to your interests. Click Agree and Proceed to accept cookies and go directly to the site or click on View Cookie Settings to see detailed descriptions of the types of cookies and choose whether to accept certain cookies while on the site.