AngularJS Web App Development Services
Develop custom apps with highly-scalable & compelling UI using AngularJS. Oodles Technologies, an AngularJS web development company, offers top-tier and unparalleled AngularJS Web App Development Services to businesses for amplified results.
Wish to know how our MEAN Stack Developers can streamline your business prospects? Let's connect.
What is AngularJS?
AngularJS is a frontend development tool which allows programming in JavaScript language and uses HTML as its template language. It is a powerful web application framework that makes use of JavaScript technologies to build dynamic websites and web applications.
The framework is run and maintained by Google along with a community of individuals and is widely used for building single-page websites and web applications. Angular also extends the HTML syntax for the sake of expressing your applications in a more clear way.
What Are The Advantages Of AngularJS?
Easy to understand and lightweight
Interactive App Design
Reusable HTML Components
REST friendly application framework
Highly secure
Flexible and adaptable
Dependency Injection, Angular Routing, and Localization
Less coding is required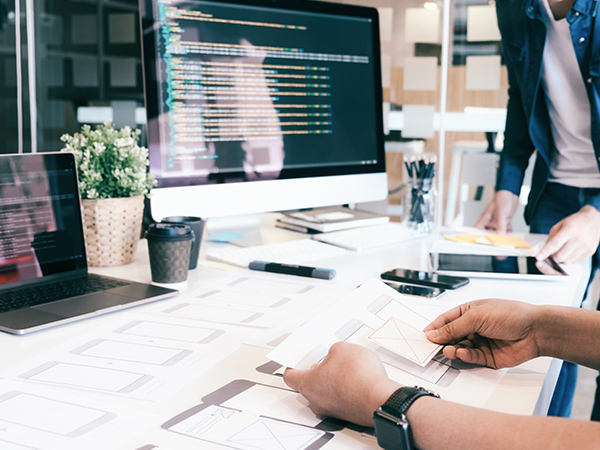 What Are The AngularJS Services That We Offer?
Web Application Development
AngularJS Customization
Plugin Development
API Development
Social & Interactive App Development
AngularJS UI/UX Development
Single Page App Development using AngularJS
AngularJS QA and Testing
AngularJS Version Migration
Real-Time App Development
Why Choose Us For AngularJS Web App Development Services?
Oodles Technologies is the most sought-after company in India that offers world-class AngularJS Web App Development Services to diverse business verticals across the globe. With remarkable years of experience in web and software development, we strive to deliver best-in-class AngularJS Mobile App Development Services at cost-effective and affordable market rates.
We boast a seasoned team of Full Stack Developers who are well-versed with the latest tools and technologies and are experts in building high-octane web and mobile apps using latest technologies like MEAN Stack. Having worked on a myriad of web development projects in the past, we always look forward to work on new challenging projects.
Nonetheless, we follow proven methodologies & a full 360-degrees approach in our entire delivery process and offer post-launch support and assistance to our valuable clients so that they could avail maximum benefits throughout.
Discover our related services
Services and solutions that work best with SaaS Application Development Services.
AR/VR/MR Application Development
SaaS Application Development
Wearables Application Development
Strengthen your business capabilities with Oodles services