Streamline your business and make it flow smart with Smart Contracts! Smart Contracts are essentially self-executing codes and computer protocols designed to digitally verify, facilitate, and enforce the performance of legal agreements. If you are searching for a diligent and versatile Smart Contract Developer contact Oodles Technologies! We offer personalized, tailor-made, and innovative Blockchain Development Services that helps to refuel your crypto projects.
For more details on secure and robust Smart Contracts contact experts at Oodles Technologies. Let's connect.
Benefits of Smart Contract Process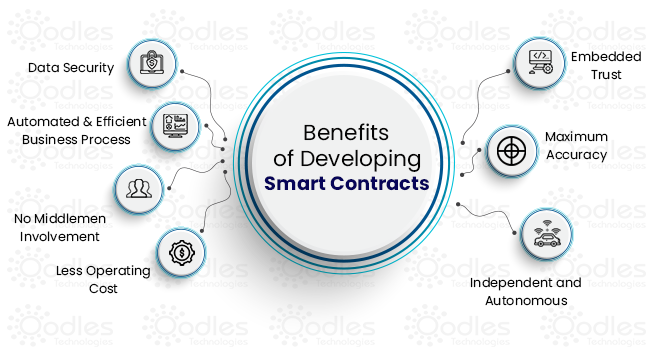 Smart Contract Development Services we offer
Smart Contracts Designs and Development
Smart Contracts Audits
Smart Contracts Optimization
Smart Contracts and Token Development
Develop Decentralized Applications
Smart Contracts Architecture
Our Blockchain Based Services
Decentralized Application Development Services (DApps)
for protection of database. Safer and secure than server/clients network
Smart Contract Development
Ensuring transparency of online processes. Self-verifying, self-executing, and tamper-resistant
Initial Coin Offerings (ICO)
Reduces middleman involvement, ensuring higher cost saving
Cryptocurrency Application Development
Ensures a high level of safety, Suitable for trading security tokens and utility tokens
Blockchain Wallets Development
Ensures a high level of security for online transactions
Private Blockchain Development
Ensure faster, cheaper, and low-risk transactions
Enables customers and users to perform digital
Ethereum Blockchain Application Development
Ensures highly scalable, reliable and secure applications
Why Choose Us As Your Smart Contract Developer?
Oodles Technologies is the fastest growing Smart Contract Development Company in India. We boast a seasoned team of dedicated and determined Blockchain engineers who leverage the Ethereum blockchain platform for delivering highly safe and secured Smart Contract solutions. Over the years, we have acquired immense expertise in developing custom and personalized smart contracts for your business so that you can easily stay ahead of the curve.
Moreover, based on your requirements, we offer affordable Blockchain services along with budget, activity, and timeline estimates. Starting early as one of the progressive Smart Contract developers, we implement proven methodologies and solutions in our services that are devised to bring successful results. We also provide post-launch support and assistance to our valuable clients and maintain full transparency in our services throughout the development process.
Discover our related services
Services and solutions that work best with Mobile Application Development Services.
AR/VR/MR Application Development
SaaS Application Development
Wearables Application Development