Intelligent Features & Automation
That Set You Apart From The Competition
Plug-and-play architecture with technology-powered, scalable, and readymade eCommerce components for everyone. With enhanced code reusability, multilingual support, advanced AI capabilities, and admin/seller dashboard setup, we help streamline your business operations and establish a concrete online presence. We also offer extensive support for third-party integrations including shipping, payment, accounting management, inventory tracking, and more for B2B and B2C stores.

OpenAI GPT-3 Integration
Making eCommerce smart and future-focused with our OpenAI GPT-3 integration services. This state-of-the-art conversation AI system enables businesses to create custom content, offer 24x7 customer support, avail cross-selling and upselling opportunities, and gain valuable data insights.

Recommendation Engine
Leverage the power of advanced machine learning algorithms to improve every aspect of eCommerce experiences. From analyzing user data to furnishing personalized product recommendations, we integrate powerful recommendation engines to make the platform as user-friendly and efficient as possible.

Virtual Assistants
We deploy robust virtual assistants designed to automate tedious and time-consuming tasks associated with order management, inventory management, product search, promoting sales & marketing campaigns, increasing customer engagement, etc. Make your platform ready for exceptional user experiences with Oodles.
Building A Multi-Vendor eCommerce Website Was
Never This Simple!
Think Innovation. Think Reusability. Think Scaffold eCommerce.
Admin Portal
With a feature-loaded admin portal, you can approve and assign sellers, products, stock, and orders while having full control over vendor management.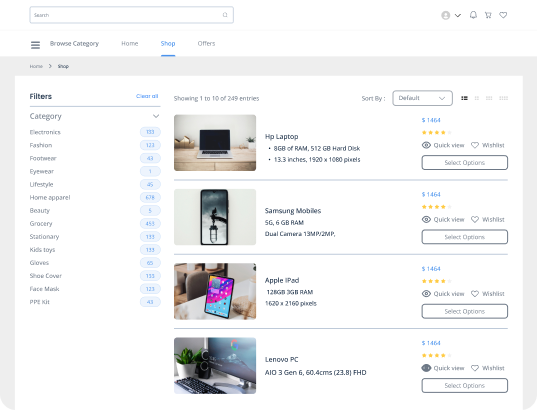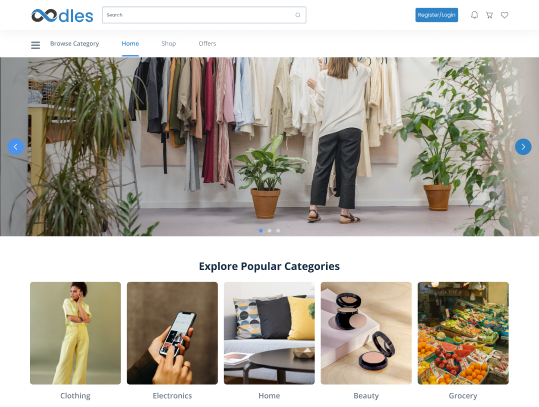 Unique Seller Storefronts
Each seller can set up a unique profile page and storefront in the marketplace with custom shop names, descriptions, taglines, terms & conditions, and more.
Real-Time Dashboard
Admin and sellers can use the built-in dashboard to see product insights, track sales, monitor inventory, and get advanced statistics on their data.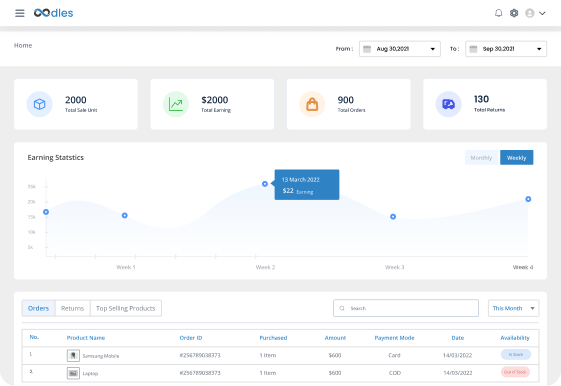 Omnichannel Approach
Thanks to the fully-integrated management tools, businesses can connect their online store to multiple sales channels such as CRM or POS.
Design Your eCommerce Store in 4 Easy Steps
Server Setup
With full server setup of backend architecture including E2C instance Odoo 14 setup, web configuration, Nginx setup, SSL certification, etc, we support you in every step.
Custom Integrations
Add or modify store with third-party integrations including payment gateways, shipping partners, inventory, and POS to be in total control of your marketplace.
Frontend Setup
We offer complete frontend setup assistance for B2B and B2C eCommerce websites using Angular 12 and related technologies for richer design and user experience.
Launch
We help you deploy custom codes, set up your own domain, and launch an ultra-fast and responsive multi-vendor eCommerce marketplace instantly.
What Makes Us Different?
Readymade eCommerce Solution
The vast library of pre-build components with plug-and-play architecture enables you to create advanced eCommerce platforms with trailblazing performance & speed.
Advanced Tech Stack
We use robust web development tech stacks, frameworks, and network infrastructure that furnish optimum responsiveness, security, flexibility, and scalability to your online store.
Trust & Reliablity
With our multi-year experience in eCommerce development, we implement the best industry practices and trusted methodologies, enabling you to overcome complex challenges.
No Coding Skills Required
You don't need to be a coding professional to create, manage, or update your marketplace. We make the entire process seamless and hassle-free for you!
Full Testing & QA Support
Although our reusable eCommerce development services are designed for tangible results, we still offer full testing & QA support to ensure profound success.
Frequently asked questions
Reusable components are pieces of user interface that can be utilized in many aspects of eCommerce platform development to create and render engaging user interface instances. Since the reusable Util codes are already tested for speed and performance, it has a low learning curve and helps in the rapid development of eCommerce stores.
Depending on your requirements, the entire development and launch process can be completed sixty to seventy times faster as compared to the traditional eCommerce platform development approach. We provide full assistance and support right from frontend development to full implementation.
There are a lot of factors that decide the pricing of eCommerce development such as website features, frameworks & technologies used, UI design component development, developers and their location, API integrations, domain & hosting, maintenance support, and more. However, with reusable components, the eCommerce platform development cost can be cut by more than fifty percent.
Follow these 3 simple steps to create feature-loaded, robust, secure, and engaging multi-vendor eCommerce platform for your business:
Go to Ecommerce Page and click on 'Start Building'
Submit your queries and business requirements
Our professionals will help you create the right interface with custom code integrations. They will assist you to build, test, and launch your multi-vendor marketplace with utmost precision, speed, and reliability.
Your eCommerce platform will be subsequently created with engaging UI/UX, admin/seller dashboard panel, and customized functionalities.