Meta-Commerce: The Fusion of
eCommerce with Metaverse
The core rationale of Metaverse implementation in eCommerce is to provide immersive and interactive digital experiences to customers. It is an ever-expanding network of 3D-rendered, real-time virtual spaces spanning interaction, interoperability, and digital selling channels.Metaverse bridges the gap between eCommerce brands and customers with technologies such as Augmented Reality, Virtual Reality, AI, Blockchain, and the Internet of Things.
With tremendous implications for sales and the creation of ultra-real replicas of real-world experiences, Metaverse is all set to open new doors in the eCommerce landscape.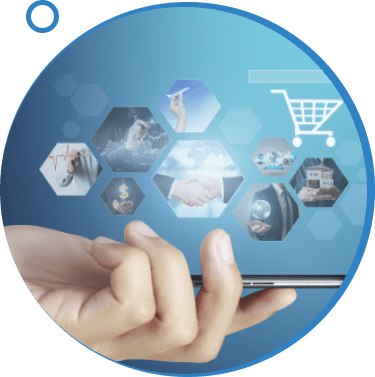 The eCommerce and Metaverse Possibilities
Explore how brands can implement metaverse services to boost user experience
The metaverse will indubitably transform the way we interact, shop, and socialize. With that, the virtual economy will become as prominent and important as the physical economy. Nonetheless, a new generation of VR headsets and wearable tech powered by AR & 3D technologies will devise an entirely futuristic paradigm for Meta-commerce.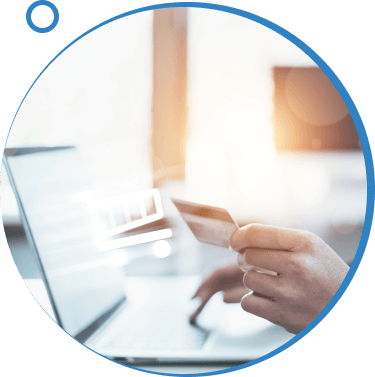 As 3D models, AI-backed digital avatars, AR visualizations, and immersive environments build the blocks of the future metaverse, the pace of adoption will inherently rise in the eCommerce sector.
Here are some of the core possibilities that metaverse will present to the eCommerce and retail merchants.
The construction of virtual showrooms
Product introduction, training, and sales
Integration of real-time 3D user-behavior analytics & data
Gamification of eCommerce assets
Live demos, customizers, and configurators
Testing new designs, colors, and patterns
Virtual eCommerce product catalog photoshoots
Monetization of virtual goods and services
Virtual Shopping:
The Linchpin of Meta-Commerce
With metaverse development and neoteric digital shopping innovations, mega brands such as Nike, Sephora, Charlotte Tilbury, Gucci, IKEA, Samsung, Mercedes, Louis Vuitton, Balenciaga, Ray-Ban, and more have already taken steps to build entirely new, dynamic, and integrated digital environments bringing together the best of online and offline shopping.
Virtual shopping has entirely metamorphosed the eCommerce industry from static product catalogs into hyper-realistic, real-time experiences. It enables users to virtually walk around the store while relishing 3D rendered store displays fueled by AR/VR technology. Moreover, it is a primitive step to bridging the gap between the convenience and ease of shopping online and the immersiveness of physical retail.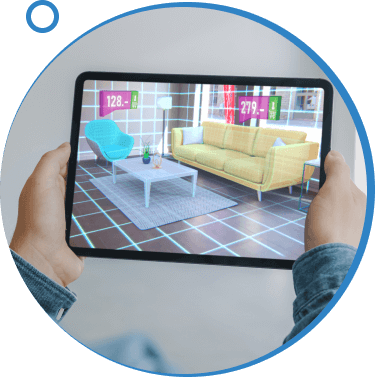 Metaverse and Its Implication in eCommerce
Delivering unique and immersive shopping experiences in the Metaverse
eCommerce and NFTs
When it comes to NFTs, the digital art scene is the most prominent aspect that ushers into the mindsets of a majority of users. However, in the metaverse, NFTs will play a key role in transforming the eCommerce industry. The wider application of Non-fungible Tokens will have a colossal amount of potential such as verifying digital ownerships, ensuring the authenticity of eCommerce products, and transferring digital assets. It will inherently provide a route for creating unified digital 3D spaces and communities that foster accessible & open shopping environments.
In the eCommerce meta-universe, NFTs will take an expansive contour, from fashion to sought-after collectibles and everything in between. Customers and brands alike can leverage NFTs to create new digital products that boost value propositions and facilitate trusted transactions.
eCommerce and Gamification
The eCommerce service sector will undergo immense digital transformation in the metaverse and gamification will further fuel the business possibilities. It will enable brands to create ultra-realistic 3D environments while taking advantage of digital competitiveness, motivating users to spend more time in shopping activities. Gamification will make use of both rewards and risks to entice customers and extend virtual shopping opportunities. Considering the success of this formula, it is not surprising that gamification will play a crucial role in shaping the future of eCommerce and metaverse.
Whether it is providing customers with the chance to earn loyalty points, buy products online, play app-based games to get rewards or tokens that can be redeemed for shopping, or try any merchandise virtually, gamifying the retail experience will pave the way for creating immersive brand experiences.
eCommerce and Personalization
For eCommerce brands seeking to build customer loyalty, personalization has become the utmost requisite. In metaverse, eCommerce personalization will enable businesses to boost conversions, encourage customers to dive deeper into the brand's ecosystem, and motivate them to indulge in the culture behind the product catalog. The idea of 'living customer profiles' and 3D virtual avatars furnished with tailored experiences will be extremely valuable to the entire shopping journey. With digital connectivity and technical innovations embodying the metaverse, eCommerce brands can build immersive and customizable 3D spaces to provide bespoke virtual shopping possibilities.
By enabling customers to navigate through a seamless shopping journey and bringing a personalized slice of brands directly into the offline experience, businesses can construct much more reliable and stronger emotional connections with the shoppers.
eCommerce and Community Engagement
With the amalgamation of eCommerce and metaverse solutions, businesses have started to invest in community-building initiatives. This empowers customers to actively participate in the brand's schemes and enables businesses to build symbiotic user relationships.
The rendering of super-real virtual spaces has furthermore propelled brands to showcase their products with immersive and interactive content such as videos, podcasts, and tutorials. It involves Augmented and Virtual Reality technological services that drive customer engagement with real-life digital offerings.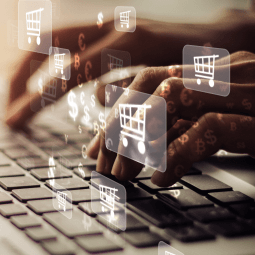 Benefits of Metaverse Implementation For eCommerce Brands
Build new, stronger, and lasting emotional relationships with customers
Create AI-powered customer support avatars for real-time communication
Furnish interactive content and live streaming for intuitive shopping experience
Re-merchandise the entire showroom and make adjustments in real-time
Bring any product into the virtual commerce with infinite aisle shopping potential
Leverage innovative AI, XR, and IoT services to enhance brand recognition
Use 3D product previews that enable users to try before they buy
Develop compelling eCommerce apps that function on VR headsets like Oculus
Request for Proposal
Cookies are important to the proper functioning of a site. To improve your experience, we use cookies to remember log-in details and provide secure log-in, collect statistics to optimize site functionality, and deliver content tailored to your interests. Click Agree and Proceed to accept cookies and go directly to the site or click on View Cookie Settings to see detailed descriptions of the types of cookies and choose whether to accept certain cookies while on the site.