Mahout Development Services
Oodles Technologies has an ultimate aim- to deliver best results that matches client's interests and benefits. Mahout development is one of the strongest suites of services offered by Oodles Technologies., We follow a dedicated and defined road map to process your goals that helps you drive your business by building intelligent applications easier and faster.
Mahout is used for machine-learning algorithms. Machine learning is a process of artificial intelligence which is usually used to enhance future performance based on past results. It is an open source project of Apache Foundation to produce free implementation for scalable machine learning libraries. Mahout has the data science tools to automatically look out for meaningful patterns once big data is stored on HDFS. Its main function is to make it easier as well as faster to transform large data into large information. Mahout supports clustering, collaborative filtering, classification and frequent itemset mining.
Mahout has algorithms for clustering as well as classification, and are implemented on Apache Hadoop using map/reduce paradigm. Mahout implements machine learning or collective intelligence to produce free implementations of distributed or scalable machine learning algorithms on the Hadoop platform. Mahout has some brilliant like features, Taste CF, Mean-Shift, Canopy, Dirichlet, Matrix and Vector libraries etc.
Every company dealing with huge data projects needs a tool that can enhance and organize their data in an uncomplicated way. Our developers help you turn your huge amounts of data into manageable and actionable information.
Robust Services
Prototyping
Cloud Integration
Richer Style
Innovative Development Features
Opulent User Interface Design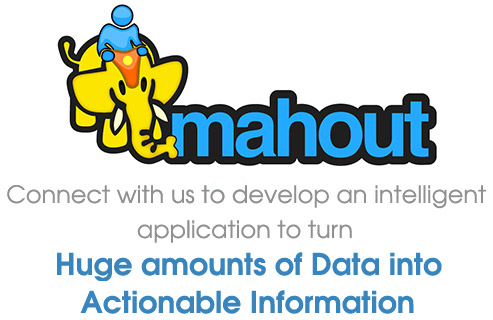 With an experienced team of highly talented mahout developers Oodles Technologies has earned extensive experience in developing world-class machine learning projects. With Oodles on board, you get interactive, user friendly platform and intelligent applications using Mahout.
Looking for a highly customized and affordable mahout application? Get a free quote! Contact us and know more about our client services.
Contact us
at
[email protected]
Discover our related services
Services and solutions that work best with Big Data Intelligence Services.
Strengthen your business capabilities with Oodles services