Ethereum App Development Company
Are you searching for Blockchain service providers who can deal with security, reliability, and scalability of business transactions? Trust Oodles Technologies. We are a leading Ethereum App Development Company, offering top-tier blockchain based application development solutions to businesses across the globe.
Wish to know how our Ethereum App Developers can streamline your business? Let's join hands and work together.
What is Ethereum?
Officially launched in 2015, Ethereum is a public, open-source, and blockchain-based distributed software platform that facilitates the seamless development of Smart Contracts and Decentralized Applications (DApps). The Ethereum-powered apps run on a custom-built blockchain, a massively powerful and shared global infrastructure that can be used for almost any purpose, from distributing fresh music to documenting complex financial transactions. There is no full stop to the uniqueness Ethereum permits in the supported apps.
Ethereum app development is one of the most powerful tools as it helps create and manage transparent smart contacts, and blockchain systems. Ethereum app development offers flexibility to get the services tailored on the basis of requirements of a business. It offers a distributed network of secure and open-source transactions that can help a business grow easily.
What Are The Other Blockchain Solutions That We Offer?
Blockchain App Development Services
Decentralized Application Development Services
Secure Cryptocurrency Applications Development
Blockchain Wallet Development
Cryptocurrency development services
Blockchain Technology Services
Cryptocurrency Exchange Platform
Altcoin Creation Service
Initial Coin Offerings (ICOs)
Industries That Use Ethereum Blockchain
Information Technology
Hospitality Sectors
Healthcare Sectors
Finance & Accounting
Logistics
Insurance
Education Sectors
What Are The Advantages Of Ethereum Apps?
Offers complete security
Eliminates possibilities of fraud, corruption
Offers complete protection from hacking or fraudulent activities
Make network Tamper Proof
Zero downtime
Faster block time
Automation at low-to-no Cost
Reliable Operations
Gas transactions
Autonomous Executions
Immutable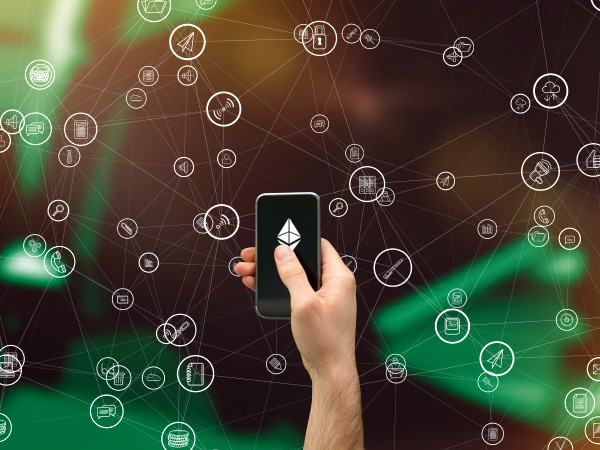 Why Choose Us As Your Ethereum App Development Company?
Oodles Technologies is one of the most preferred Blockchain app development companies in India, offering Ethereum Blockchain solutions for diverse business verticals across the globe. With our decentralized apps, businesses can experience secure transactions, smooth operations to prevent their data from fraud or hacking attempts.
With unparalleled expertise in the said niche, we implement proven-methodologies and development techniques to obtain maximum results. Our team of Ethereum App Developers and Blockchain professionals has extensive knowledge of the Crypto-based platforms. Some of our unparalleled services include wallets, smart contracts, and cryptocurrency exchange. Get in touch with our Experts offering Blockchain app development services at competitive prices.
Discover our related services
Services and solutions that work best with Blockchain Development Services.
AR/VR/MR Application Development
SaaS Application Development
Wearables Application Development
Strengthen your business capabilities with Oodles services